Thai authorities at the Lao-Thai Friendship Bridge border crossing are cracking down on borrowed vehicles.
According to a sign recently erected at the bridge, from 1 January 2018, any vehicle crossing into Thailand from Laos that is driven by an individual who is not the vehicle's owner must provide documentation authorizing use of the vehicle.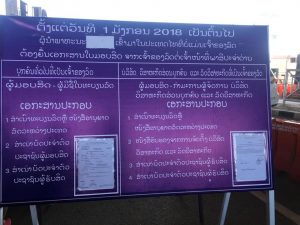 Documentation required will include a power of attorney signed by the owner of the vehicle, and the following supporting documentation:
1. A copy of vehicle registration documents
2. A copy of the identification card of the vehicle owner
3. A copy of the idenification card of the person using the vehicle
Further documentation will be required for persons using vehicles belonging to a business or organization.
The new regulations come on the heels of Thai authorities' new "ASEAN Road Toll," which imposes a fee upon foreign vehicles entering the country and using its roads.
On top of this, the Thai immigration authorities imposed new visa restrictions on foreigners from many nations entering the country by land last year, limiting the number of crossings available to only twice per year.
Photo: Facebook