In an attempt to promote tourism in their respective countries, Laos and Russia have enacted a VISA exemption for their ordinary passport holding (as opposed to service and diplomatic types) citizens, starting on the 2nd of December. This agreement, however, had been signed by Prime Ministers Dmitry Medvedev and Thongloun Sisoulith during Laos's reign as ASEAN chair back in 2016, and was one of the cornerstone accomplishments of the Russian Prime Minister's visit.
The agreement permits ordinary passport holders of both countries to enter each other's country for up to 30 days without an entry visa. With regard to traveling, Lao citizens can now treat Russia as they would any other ASEAN country.
During any period of 180 days, ordinary passport holders from either country may stay in the other country for a maximum of 90 days with multiple entries. Each entry must not exceed 30 days, according to the Ministry of Foreign Affairs.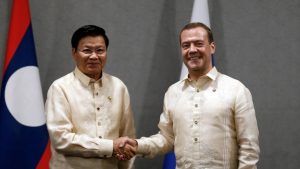 With the addition of Russia as a bilateral VISA exempt partner, Laos currently has visa exemption agreements with a total of 11 countries, namely Mongolia, Brunei Darussalam, Cambodia, Indonesia, Malaysia, Myanmar, the Philippines, Singapore, Thailand and Vietnam.
Laos currently offers unilateral visa exemptions to ordinary passport holders from Japan, the Republic of Korea, Switzerland and Luxembourg. Nationals of these aforementioned countries with ordinary passports can enter Laos without entry visas.
Laos is beginning to see more and more Russian nationals traveling to Laos for leisure purposes. According to the Lao Tourism Ministry, approximately 13,000 Russians visit Laos per year.