A senior Lao diplomat has expressed grave concern over North Korea's recent test of an intercontinental ballistic missile, and joined concerned nations in calling on Pyongyang to end its nuclear missile programs.
Deputy Foreign Minister Khamphao Ernthavanh also stated that she hoped the situation on the Korean Peninsula could be resolved through peaceful negotiations.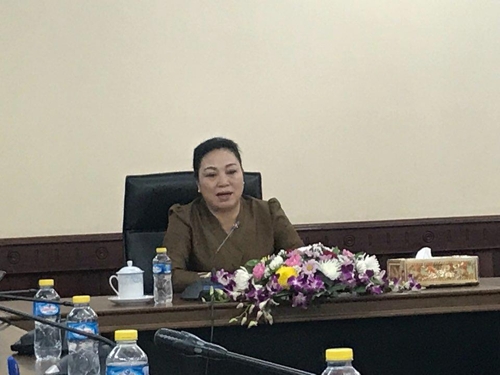 "Laos sees this as a concerning matter. We hope North Korea abandons its nuclear and missile development and that the Korean Peninsula will be denuclearized through talks as soon as possible."
Deputy Minister Ernthavanh made the statement on Thursday when interviewed by South Korean journalists.
"If the situtation becomes more serious, it could inflict huge damage not just on the Korean people but also those in the ASEAN region," she went on. "I personally hope that things will be resolved peacefully through talks."
The comment came after North Korea announced that it had conducted an ICBM test.
While Laos has enjoyed long and close relations with North Korea, establishing diplomatic ties and opening an embassy in 1974, the country has joined the international community in expressing concern over nuclear missile tests.
When asked if Laos will take steps to restrict North Korea from sending its workers to the country in accordance with UN resolutions, the minister said responded in the affirmative.
"As a UN member, Laos has an obligation to enforce UN resolutions," she said, "so we will make efforts to excecute such measures in cooperation with the international community."