While Laos' geographic neighbors China, Vietnam and Thailand dominate its top ten list of foreign investors, an unlikely contender claims the 10th spot, and it is not what one may expect: the United Kingdom.
The UK has gone from being the 15th largest investor in the country several years ago, since the establishment of a UK Embassy in Vientiane, to currently the 10th largest foreign investor in Laos.
Laos and the UK established diplomatic relations in 1955, but did not have physical embassies in each other's country from the mid-1980s until they reopened their embassies in Vientiane and London in 2012 and 2013, respectively. This ended a 27-year absence of a British diplomatic presence in Laos.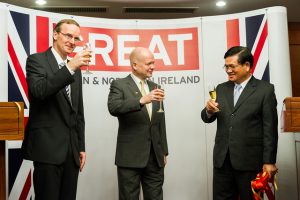 The new British Business Group (BBG), which currently boasts almost 100 members, has been established to represent all aspects of British commercial and trade engagement with Laos. The group works closely with the UK Embassy and exchanges views and information – a platform that plays a vital role in enhancing commercial ties with Laos.
Since the establishment of the UK Embassy in Vientiane, the number of UK companies entering Laos has risen.
British multinational life insurance company, Prudential, launched operations in 2016 and has quickly assumed a leadership position in the market.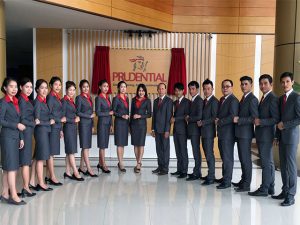 The Jaguar and Land Rover brands continue to fare well against its more established competitors in the luxury car market.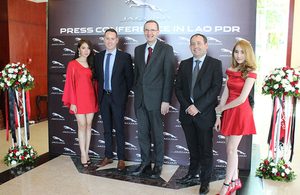 InterContinental Hotels Group, a UK listed international hotel group, has opened the Crowne Plaza Hotel and will open the Holiday Inn in Vientiane in 2019 and the first InterContinental Hotel in 2021.
There are also a number of small British restaurants and small businesses that are very active in Vientiane and throughout the country.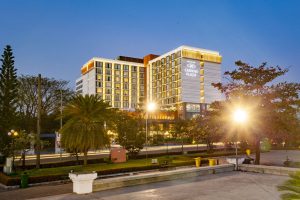 In the education space, Birmingham's Aston University has signed a Memorandum of Understanding with the National University of Laos (NUOL) to govern their cooperation.
Top-ranked Nottingham University signed an MOU with Laos' Panyathip International School (PIS) to run a complete foundation course in Laos, allowing Lao students to continue their studies in Malaysia and the UK.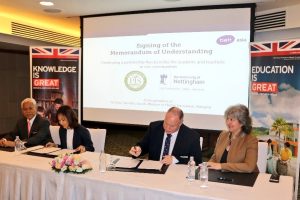 "This is the first time a western university is offering this course directly in Laos. We think this is a very significant development," says Hugh Evans, UK Ambassador to Laos.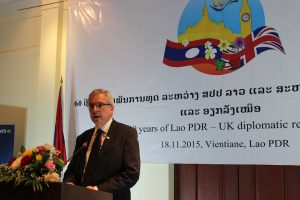 The resident British community in Laos consists of 200-300 nationals, and approximately 37,000 who visit annually.
The UK Embassy has an active and innovative digital presence to communicate about the UK and its engagement with Laos through the website, Facebook page and blog. To continue to follow the work of the UK Embassy in Laos, please visit these channels.