Organic farmers' groups in the sleepy capital of Laos have enjoyed a constant growth over the past couple of years.
According to the Vientiane Agriculture and Forestry Department, there are 41 organic farmers' groups in Vientiane, of which 10 are organic rice growers' groups and 17 are vegetable organic growers' groups in seven out of nine districts. Sisattanak and Chanthabouly are the only two districts to not have any organic farmers' groups established.
The 10 organic rice growers' groups have a total of 281 family members. And, there are 285 family members in the vegetable organic farmers' groups.
The total annual production of these organic farmers' groups is estimated to be approximately 300 tonnes.
Fourteen (14) organic farmers' groups are classified as good agricultural production units in the 5 districts of Hatsaifong, Sikhotthabong, Xaythany, Naxaithong and Pakngum.
Most organic produce produced by the organic farmers are sent to major organic markets of Vientiane Capital including Houayhong Market, Chao Fa Ngum market and That Luang organic market.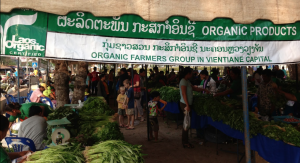 Source: KPL