The Lao News Agency (Khaosan Pathet Lao or KPL) has signed a joint agreement with the Chinese Chamber of Commerce in Vientiane to co-operate the first ever Chinese-language newspaper.
The newspaper will be published twice a month to facilitate access to reliable and accurate information for the numerous Chinese nationals living in Laos, especially in the capital city.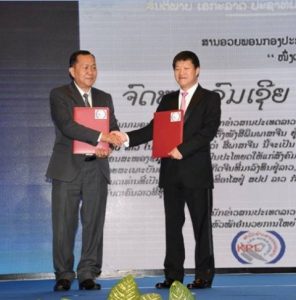 A signing ceremony for the Chinese newspaper took place on the 2nd of February in Vientiane Capital on the sidelines of the Laos-China Belt and Road Cooperation Forum, Feb 2-3, between the Director General of the Lao News Agency Sounthone Khanthavong and President of the Chinese Chamber of Commerce in Vientiane Boualapha Santikhongkha.
Source: KPL