The Top Thai Brands 2018 Exhibition event has kicked off with a bang yesterday at ITECC in Vientiane Capital. Attending the event was Vice Minister of Industry and Commerce Somchit Inthamith, Thai Trade Ambassador Yanee Simixay, and other relevant officials and representatives from the business community.
The purpose of the exhibition is to promote cross border trade within the ASEAN Economic Community. This year, a total of 176 vendors are participating in the event, with 143 being companies selling primarily cosmetic, health and general home appliance products. Lao products include those belonging to the ODOP (One District, One Product) program and other souvenir and machinery trades.
https://www.facebook.com/TopThai2018VTE/videos/1806728579622610/
"By hosting this Top Thai Brands 2018 Event, we are promoting economic, trade and investment ties between Thailand and Laos, in line with the Lao Prime Minister's three-tier policy of 'open door, open challenges, and open hearts.' This will be a way to increase the total value of trade between our two countries and a platform for businesses from both sides to showcase their products, says Thai Chargé d'Affaires Sassawan Sakhonsin.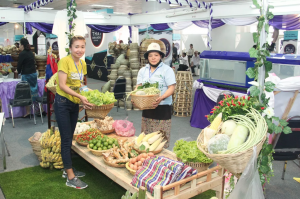 In 2017, trade between Laos and Thailand had reached USD $6.17 billion, a 5% increase from the year before. For only the month of January 2018, cross-border trade reached USD $580 million, approximately 44% higher compared with that of January of the previous year.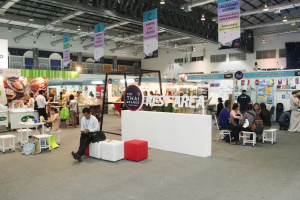 Top Thai Brands 2018 will last until the 11th of March and features a variety of products from Thailand and Laos. The event is free and open to the public starting at 10am to 9pm at ITECC.