Laos' economic growth is likely to be sustained this year and accelerate in 2019, while inflation will edge up, says a new Asian Development Bank (ADB) report dated Apr 11th, 2018.
In ADB's flagship annual economic publication, Asian Development Outlook (AOD) 2018, the bank forecasts GDP growth for Laos to reach 6.8% in 2018 and increase to 7.0% in 2019.
"Despite the government's ban on logging exports, tighter credit conditions, subdued international mineral prices, and lower tourist arrivals, the Lao PDR maintains its growth momentum supported by mega infrastructure development projects, increased electricity generation and expanding in service sector," said Yasushi Negishi, Country Director Lao PDR Resident Mission.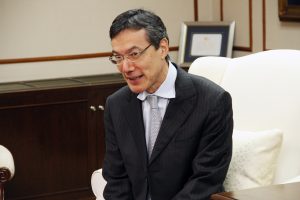 "The industry sector slowdown that began in 2017 persists but is compensated by slightly higher growth in service. Some hydropower projects now under construction will come online in 2019, notably the 1300 MW Xayaboury dam, industry sector will reverse its declining trend, "said Rattanatay Luanglathbandith, Public Management Specialist.
Meanwhile, barring more bad weather, agriculture should continue to grow around 3% and service sector growth is expected to strengthen mildly as tourism is expected to recover from last year with Visit Laos Year 2018.
While the growth momentum is maintained, inflation is expected to remain at a moderate 2 – 2.5% range. The current account deficit is projected to expand to 14.9% of GDP in 2018 as higher inflation, rising international oil prices and large import machinery for the mega infrastructure projects drive up the import bill while export growth moderates.
When the new hydropower projects start operations, the electricity export is expected to pick up in 2019, pushing the current account deficit down to 13.7% of GDP.
External risks to the country's outlook include an unexpectedly large slowdown in trade and heightened instability in global or regional financial markets. A bigger risk could manifest itself if government efforts to consolidate its finances are not successful, threatening debt distress under the condition that foreign exchange reserves barely cover normal imports.
"A development challenge for the country is a mismatch between the skill that young people acquire in schools and those in demand in the labor market, said Luanglathbandith.
"There had been substantial efforts made by the government to generate employment and income for people in the Lao PDR," he explained.
"For more inclusive growth, the government needs to further enhance its efforts to provide labor with skill sets to respond to demands in the labor market, " added Luanglathbandith.
Source: KPL