The General Security Police Department (Kom Yai Santhiban) issued a public notice stating that Lao nationals and expatriates who have permanent residency will no longer be required to fill in the widely unpopular immigration form (arrival-departure card) when exiting or entering Laos through four international airports – Wattay International Airport (Vientiane Capital), Luang Prabang International Airport, Savannakhet International Airport and Paksé International Airport.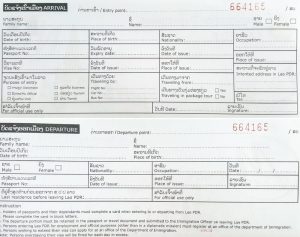 However, the notice specifically states that the change does not apply to tourists, foreigners without permanent residency, and stateless individuals who will still be required to complete the above-mentioned form upon entry or departure from these airports.
Laos has approximately 20 international border checkpoints, where routine immigration procedures will continue to be in effect until they are equipped with the capability to record the exit and entry of travelers digitally. The move is a new step to render travel more convenient, while the government is also setting up an online system of visa applications for people traveling to countries that require a visa.
The public has applauded the government's efforts in gradually upgrading the normal passport system to an electronic one. Lao nationals are now encouraged to visit the Consular Affairs Department of the Ministry of Foreign Affairs to obtain their e-passports. There, their biodata will be collected and stored in central servers.
Wattay International Airport is the only airport where the new electronic passports may be used to automatically allow a Lao national to enter and leave the country without being conventionally stamped in and out by an immigration officer. While this is a major step toward digitalizing essential government services, the e-passport machine is still in its trial phase, evidenced by the many complaints to its inefficiency and slowness. In its current state, it is not a viable substitute for an immigration officer.
According to a source in the Immigration Department, the e-passport system cost several million dollars to implement.