The Mekong River Commission has vowed to become one of the first paperless organizations in Laos as part of its efforts to protect environment and promote regional sustainable growth.
Pham Tuan Phan, CEO of the MRC said that the secretariat of the intergovernmental organization of Cambodia, Laos, Vietnam and Thailand had drawn up a paperless regulation as one of its development plans.
The "Paperless Initiative", put into practice last year, where staff members are encouraged to print less paper and use more electronic documents for meetings and during daily operation. The Secretariat Office of the Commission is also working toward a plastic-less initiative which corresponds to this year's World Environment Day theme "Beating Plastic Pollution."
The initiative is also part and parcel of the Mekong regional efforts to save timber resources – the main raw material for the paper processing industry, Phan said at a ceremony to mark Laos' National Arbor Day on Friday last week.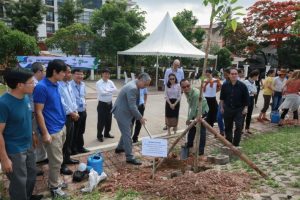 Phan said the implementation of the paperless office policy was possible due to improved IT technology and digitalization.
He said the MRC office is working to become a plastic-free organization to help save the planet, protect the environment, and promote green and sustainable growth in the Mekong region.
The Mekong River Commission is an intergovernmental organization for regional dialogue and cooperation in the lower Mekong river basin, established in 1995 based on the Mekong Agreement between Cambodia, Lao PDR, Thailand and Viet Nam. The organization serves as a regional platform for water diplomacy as well as a knowledge hub of water resources management for the sustainable development of the region.
Source: Vientiane Times, Xinhua, MRC