In celebration of the 45th anniversary of Beerlao, Tiger head Drinking Water is running a special promotion to return some of our profits to consumers, whereby you collect Beerlao lids in exchange for a variety of amazing prizes, amounting to over 5,000,000,000 kip. All you have to do is collect gold lids to exchange for a range of prizes.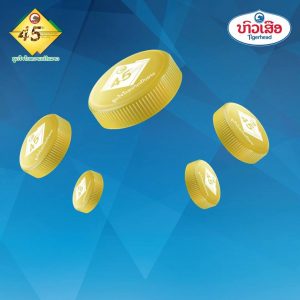 There are also two grades of prizes to go for:
Grade 1: Save up lids to exchange for prizes with distributors nationwide:
30 lids can be exchanged immediately for one large bottle of drinking water in addition to one prize draw ticket.
300 lids can be exchanged immediately for one umbrella in addition to 10 prize draw tickets.
1,000 lids can be exchanged immediately for one jacket in addition to 30 prize draw tickets.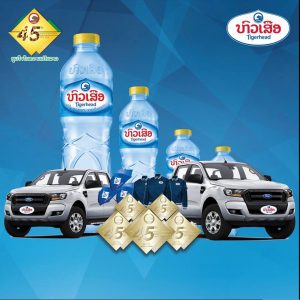 Grade 2: Fill out your prize draw tickets with your name, address, and contact telephone number, and put them into the prize draw boxes in order to stand a chance of winning a Ford automobile, a two-saleung (about 7.58g) necklace, or one of 100 other prizes.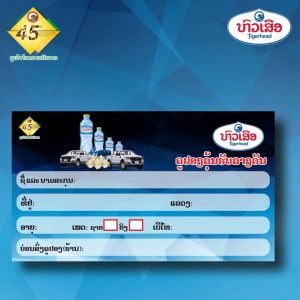 The draws for the automobiles will be taking place on 16 September 2018 and 18 October. The draws for the gold necklaces shall be held every two weeks, starting on 9 August 2018. Follow draws live at: https://www.facebook.com/tigerheadlaos. Come and exchange your lids in exchange for lots of prizes!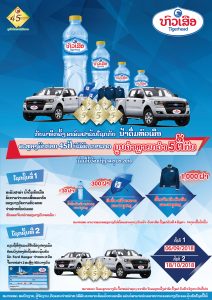 Remarks:
Only the gold lids may be exchanged for prize draw tickets.
Every weekend, Tigerhead Drinking Water will be setting up booths for your convenience and to make it easy to send in your prize draw tickets.
This promotion has already begun and shall continue until 14 October 2018 or until the prizes are finished.