(Vientiane Capital) On the afternoon of August 3, 2018 at the Ministry of Labour and Social Welfare, Mr. Seungho Choi, Managing Director of Lao Samsung Electronics Sole Co., Ltd., met with Mr. Khampheng Xaysompheng, Minister of Labour and Social Welfare, to deliver his condolences on the flood disaster in Sanamxay District, Attapeu Province on 23 July 2018, which caused a severe loss of life and property of villagers in the area.
In addition, Mr. Choi, Managing Director of Lao Samsung Electronics, delivered aid in the total of US$100,000 to the government in order to help alleviate flood victims affected by this tragedy. This aid will be in the form of goods and emergency relief supplies during the immediate aftermath of the disaster and the recovery period.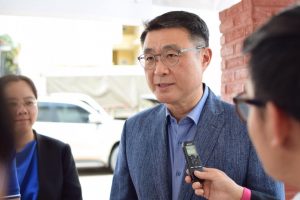 "For this $100,000 assistance, Lao Samsung Electronics is assisting in the form of goods, but will respect the decision of the Government of the Lao PDR because I believe that the government knows best what the affected villagers require. If the government needs certain supplies, Lao Samsung Electronics will cooperate closely in order to get the supplies as needed," Mr. Choi stated.
Along with this, Mr. Choi also gave words of support to those affected by the tragedy and their families, as well as encouraging everyone to be strong, and hoping that those affected will be able to move on from this tragedy safely.
#SamsungforAttapeu