Project owners of the Xepian Xenamnoy Hydropower Project are working with local authorities to accelerate the construction of temporary accommodation to house those made homeless by the floods that devasted Sanamxay District of Attapeu.
12-14 temporary one-story structures, each with 10 rooms capable of housing 4 people are expected to be built. Toilets will also be included in the structures. If weather permits, construction is currently expected to take approximately 2 months since work began at the beginning of August.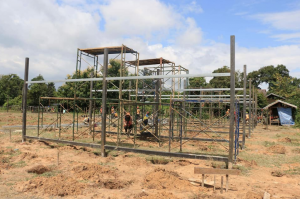 The temporary structures will be built in a primary school in Hartyao Village and in Dongbok Village.
Director of the Attapeu Provincial Energy and Mines Department Vithaya Phommachanh said that in "in the future, we plan to build permanent houses in Tamoryord, Hindong, Nonthasengchanh and Dongbak villages as well as the necessary infrastructure."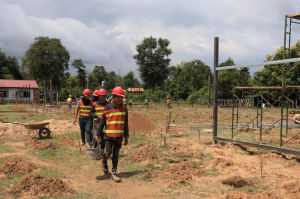 The number of people who will require accommodation in the temporary houses is unclear at this stage because the figures have fluctuated after some people returned home when the floodwater receded.
Sanamxay district chief Bounhome Phommasane said that there were over 7000 villagers affected by the flooding – over a thousand families from 6 villages were heavily impacted.
The affected families are currently living in 439 temporary camps in Sanamxay.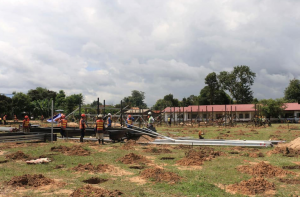 Large numbers of people are still in need of rice and other food, along with drinking water, cooking equipment, and other essential items.
As of yesterday, the death toll from the flood caused by the collapse of an auxiliary dam at the Xe-Pian Xe-Namnoy hydropower project had climbed to 35, including three injured people who died in hospital. Some 99 people are still missing.
Source: Vientiane Times, Lao Economic Daily