Saving money or saving the planet? Either way, travel lovers, tourism industry professionals, and their suppliers will have more reasons to be in Luang Prabang from September 14-15.
Sustainable Tourism Solutions Expo will bring together hospitality businesses and vendors of sustainable products, technology, and services to descend on the UNESCO World Heritage-Listed town.
Billed as the first event of its kind in the region, the Sustainable Tourism Solutions Expo offers an opportunity for local businesses to learn about and purchase sustainable alternatives to traditional tourism and hospitality supplies, such as environmentally-friendly cleaning products and toiletries, plastic-free packaging, locally produced substitutes to imported food and beverages, and handmade gifts and decor.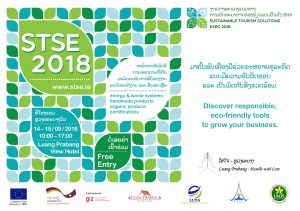 The Expo is set to support the local hospitality and tourism sector by helping to create a tourism business environment that is more sustainable, cost-efficient and on top of today's global market developments.
In addition to the opportunity to learn about sustainable solutions from exhibitors, there will be a range of interesting symposia to join on practical topics ranging from how businesses can better communicate sustainability efforts to how eco-friendly solutions can save money as well as the planet.