Take a stroll through the markets of Laos and you will surely see the sinh, the long wraparound skirt which is the national dress for women. A vast array of patterns and colors allows women to be able to match the right sinh to any occasion. Sensing that these beautiful styles lacked a similar male outlet for sartorial expression, local fashionista Phonethida Somsaart embarked on creating her own clothing brand: Mouvement.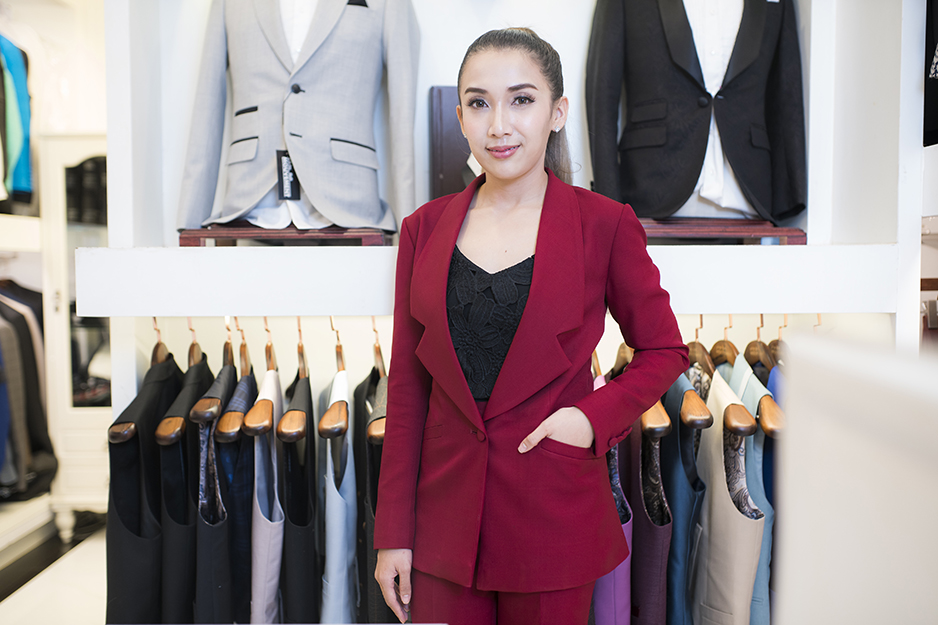 "In the past, there were only a few Vietnamese tailors making clothes for men which were rather basic. Now men's tastes and interests in fashion have changed. Men are increasingly aware of global trends and styles on TV and online, so a simple suit is no longer sufficient," she said.
Before opening, Phonethida enrolled in a short course locally to apprentice and to build her knowledge and skill in men's fashion.
"At the beginning, I was doing everything from measuring, to cutting and sewing. Now I have built the shop up and have many staff, so I can focus more on handling customers and growing the business," she added.
Mouvement now has two locations in Vientiane, aimed at serving discerning gentlemen who wish to be on the cutting edge of male fashion: the main branch in Phonsinouan, and a secondary branch in That Luang.
"We are considering expanding to other regions in the country, but we want to make sure that we maximize our reach in the Vientiane market first," said Phonethida.
The shops have a wide variety of suits on hand to give ideas in selecting the right style, cut, and color. Fabrics in use include imported wools, polyesters, and linen. Phonethida is also inspired by traditional textiles made in Laos, so to bring more focus to local materials she has even begun using locally produced cotton and silk.
Staff are on hand in every step of the process to assist and offer advice to ensure the client is completely satisfied.
"At Mouvement, we focus on service. We offer free alterations for the lifetime of the suit, so if you gain or lose a few kilograms, we will alter the suit at no charge. If you care for your suit, it can last more than ten years!" adds Phonethida.
The tailors in the workshop are also very experienced and able to create artistic pieces in both Lao and foreign sizes.
Phonethida mentions, "we have begun getting more and more Westerners to our shop and we are delighted to be able to share a piece of Laos that they can take back to their countries."
Mouvement's main branch is located on Phonsinouan Street in Ban Dongpalanethong and can be contacted at
020 23 244 339 or https://www.facebook.com/mouvementbrandlaos
Text: Jason Rolan JASON ROLAN
Photographs by: PHOONSAB THEVONGSA & MOVEMENT
Originally Published in: Champa Meuanglao