The first real estate investment expo in Laos is set to open eyes, hearts, dreams, and pocketbooks at Don Chan Palace Hotel on Friday & Saturday, March 1-2 2019.
Open to attendance from the public with free entry, Patrons will not only have a chance to eye off some the nation's best property deals, but go in the draw to win international flight packages and a host of other prizes.
Laorealestate.la, in partnership with the Lao National Chamber of Commerce and Industry (LNCCI) and Laos' leading online marketplace, www.yula.la, is excited to announce it will be hosting the event.
The Laorealestate.la Expo 2019 is set to bring together Laos' top property developers, architects, builders, real estate agencies, plot land vendors, banks offering home loans, insurance companies, law firms, and even international property investments.
The Laotian Times, Lao Post and Champa Meuang Lao magazine were among media partners in attendance at the launch.
More than 40 firms will exhibit in one room, for two days only, and the event is expecting over 3000 local and international attendees. Laos' best luxury car brands and related businesses will also exhibit at the entrance of the event.
On top of a variety of property offerings, the Laorealestate.la Expo will also offer attendees access to a dedicated free seminar room with over 20 seminars from Laos' leading real estate agents, property development experts, economists, lawyers, financiers, and Government officials.
Various international guests will present in the seminar room, to take a look at Laos' real estate market in a regional context.
Seminars are focussed on educating buyers and sellers on the Lao investment climate, regulation, pitfalls, and upsides of the sector, and advice for first both first home and experienced buyers.
A special guest confirmed for the event is Dr. Somchai Charoenvarakiet, a Thai Feng Shui Real Estate consultant of over 20 years.
Dr. Somchai is set to offer his insights on how to maximize the positive energy of their home or office through Feng Shui design techniques.
All seminars will be translated via headsets in Lao, English and Chinese languages.
For the first time in the country's history, all the big names from the Lao real estate industry will be together under one roof.
This presents a perfect opportunity for local buyers and international investors to survey the country's best property opportunities.
Property sellers and financiers will also bring special expo-only promotions to guests.
 "The LNCCI is proud to be a partner of the first ever specialised real estate investment expo in Laos," Vice President of the Lao National Chamber of Commerce and Industry (LNCCI), Mr. Daovone Phachanthavong, told the media gathered at the launch.
"Ultimately, events such these will develop the whole sector and the wider economy, sharing information, best practices, business connections and generating a wider consumer base for exhibitors and sponsors, across both local and international networks."
"This exciting event will provide the perfect platform to celebrate Laos' real estate industry and to showcase the opportunities this market has to offer to both end-buyers and investors," Mr Dominick Williams, Chief Executive Officer of APA Insurance Laos (Phongsavanh Insurance (APA) Co., Ltd), the main sponsor and key partner of the laorealestate.la Expo 19 alongside the LNCCI, Yula.la and laorealestate.la, told the gathering.
"Ultimately this will support the progress of the Laos real estate sector and the economy as a whole. As a leading local provider of property and construction insurance, as well as mortgage protection insurance, APA Insurance is delighted to support Expo as partner and main sponsor, and we very much look forward to welcoming guests to Don Chan on March 1st and 2nd, 2019".
"The 2019 Expo is a great platform for property related businesses to generate leads and increase sales, it also represents a chance to celebrate the local real estate industry and give businesses an opportunity to strengthen their brand." Mr. James Whitehead, CEO of Yula.la & laorealestate.la, said.
"For our attendees, we are offering a unique opportunity to view a range of property investment options in one room, over 2 days; ranging from plot land options, houses, villas, condos, construction firms, architectural designers, and property services and advice.
"First home buyers will also benefit from a range of home loan options, and specific legal and insurance advice.
"Those seeking international investment, travel, immigration and education options will also benefit from a range of exhibitors advertising opportunities in destinations such as Australia, USA, Europe, Malaysia, and Thailand – to name a few.
"The dedicated seminar room will offer a perfect and totally free opportunity for potential property buyers to learn about taxes, valuations, land laws, investment considerations, market trends and how to finance a home safely, among many other topics. We will have over 20 local and international speakers in the seminar section, over the two-day event.
"The event is now over 70% sold out for exhibitors and sponsors, thanks to a huge effort from the yula.la sales and marketing team, and we have already registered over 1300 local and international guests to join us next month."
Digital Classified Group (DCG), the Australian-based parent company of Yula.la & Laorealestate.la, is bringing the real estate show concept to Laos after having successfully ran similar expos in several other markets internationally, including Cambodia and Papau New Guinea.
It is boasting a track record of well over USD $80 million worth of property sales at those various events, 30,000 attendees and over 200+ exhibitors.
The event will also be supported through a wide array of Lao and international media partners, including major local media channels both on and offline, Lao's most prominent business chambers, and an array of investor networks across ASEAN and in China.
Digital Classified Lao Sole Co., Ltd., the Lao subsidiary of Digital Classified Group, would like to extend the utmost thanks to our partners of the first ever Laorealestate.la Expo, namely the Lao National Chamber of Commerce and Industry (LNCCI), the Ministry of Industry and Trade, the Ministry of Industry and Commerce, the Ministry of Planning and Investment, the Ministry of Civil Affairs, the Ministry of Natural Resources and Environment & APA Insurance.
Those wanting to supercharge their brand and business connections are urged to sign up for a booth.


To become an exhibitor or sponsor and take your real estate brand to the next level, visit https://realestatekh.lpages.co/lao-real-estate-expo-2019-exhibitors-sponsors/ or contact: +856 20 55 550 906 | contact@yula.la
Attendees are  encouraged to register as soon for event updates and prizes vis https://realestatekh.lpages.co/lao-real-estate-expo-2019-attendees/ to sign up for free entry and RSVP on Facebook: https://www.facebook.com/events/2192522880987586/
Sponsors include APA Insurance, provider of property and construction insurance, Archineer Associates, Architecture, Engineering and Consultancy firm; Aristo Developers, Property Developing companies in Cyprus, and Bluegrass Design Group and Guru Group, end-to-end marketing companies.
Additional Partners & Media include American-Lao Business Association, The European Chamber of Commerce and Industry in Laos, Austcham Lao, Muan.la, Bizgital, ECCIL (The European Business Chamber), The Laotian Times & LaoPost, Talatlao magazine, Realestate.com.kh, Champa Meuanglao Magazine, J&C Services, 108 Jobs, cvConnect, Kiwipay, Silkroad Media and Big Blue.
The Laotian Times reporting on real estate issues and stories can be found here.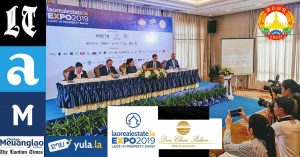 Words + Laotian Times; Images + Laos Briefly