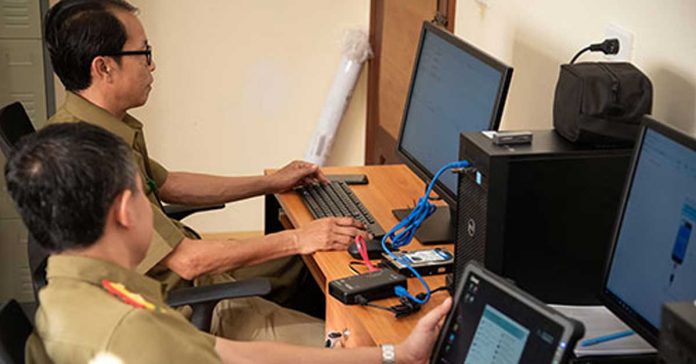 Laos has opened the country's first digital forensics lab, which will allow authorities to analyze more than 2,000 digital media-related criminal cases a year.
The laboratory is designed to analyze digital evidence collected or resulting from, criminal investigations including transnational organized crime, cybercrime, and wildlife crime.
The facility, which is equipped with cutting-edge technology for the identification, extraction, and analysis of digital evidence, will enable investigators to ensure the overall integrity and reliability of digital evidence while maintaining a proper chain-of-custody.
It will allow investigators to identify, transport, recover, analyze and preserve digital evidence resulting from criminal cases and present this evidence in court.
Deputy Director-General of the General Police Department, Police Colonel Dr. Phengsavanh Thiphavongxay cited the recent increase in cybercrime as one of the reasons for setting up the facility.
"There is a need for continuous efforts and improvements in all areas of capacity building and in the utilisation of advanced technology in combatting, investigating and prosecuting criminal activities," said Dr. Phengsavanh.
The Lao government and the United Nations Office on Drugs and Crime (UNODC) have closely worked together over the past few years to set up the digital forensics lab facility.
Funded by the Government of Norway, UNODC has spent the past two years training and mentoring specialist local police personnel for new technologies and devices.
In addition, UNODC has equipped the police force with standard operating procedures for handling digital evidence and established forensically-sound processes up until its presentation in court.
This marks the latest effort of the Lao government to eradicate cybercrime in the country.
In May, the Lao Telecommunication Regulatory Authority announced that it was developing an application to allow mobile phone users to register sim cards online, in a move to not only speed up sim card registration process but also reduce the possibility of internet crimes.
Currently, those who want to register their sim card should present in person at the retail outlets of their service provider.
"Many observers have noted that unregistered sim cards make Laos vulnerable to internet crimes and attack," Vientiane Times noted in May. "The government is aware that unregistered sim cards can pose challenges for the authorities, not least of which is maintaining national security and having recourse for any mobile phone related crimes committed."