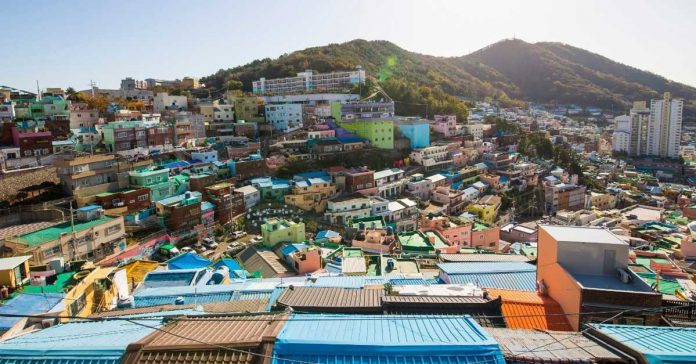 Korea's strong presence on the landscape of pop and traditional culture, cuisine, fashion, and beauty has taken the region and much of the wider world by storm since the early 2000s.
In Laos, like elsewhere in the emerging economies of Southeast Asia, so much of Korea from K-Pop, K-drama to K-cosmetics and beyond have been making huge inroads with the young and young at heart alike.
These attributes are inspiring more of the region's younger generation to seek opportunities to their northeast, whether it's taking up Korean studies to sing or seek out employment and business with this soft power.
Peace, Prosperity, and Partnership in Busan
While more people than ever are looking to Seoul for their cues to divining the "Miracle on the Han River", it is South Korea's remarkable southern coastal city of Busan that is increasingly in the spotlight for its coastal leisure, culture, cinema, and cuisine.
This was no doubt in the minds of Southeast Asia's leaders, including Laos' Prime Minister Thongloun Sisoulith, attending the ASEAN-Korea Commemorative Summit 2019 under the theme "Peace, Prosperity and Partnership" in Busan from November 24-26, 2019.
Busan: A Visitor's Dream
Coastal and mountaintop vistas, fusions of culture old and new, and traditional to ultra-modern aesthetics make Busan a dream for the potential visitor.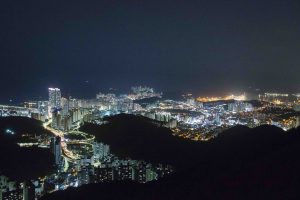 Must-see sites on a Busan itinerary include sightseeing at Haeundae Beach, Busan Tower, Nurimaru APEC House, and Mount Hwangnyeong. Overload on Korean culture at the Busan Cinema Center, BIFF Square, Haedong Yonggung seaside temple, and Gamcheon Culture Village.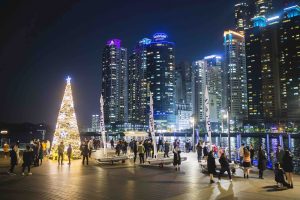 Whet one's appetite at Jagalchi Fresh Seafood & Souvenir Shop at Gukje Dry Goods Markets or browsing in busy Seomyeon. Enjoy great consumer local and international varieties at formerly the world's largest shopping complex, the Shinsegae Centum City Department Store.
While traversing the town, witness the amazing infrastructure and architecture including the 7km-plus Gwangan "Diamond" Bridge that has provided the setting for films including Marvel's famous Black Panther.
Once South Korea's popular domestic honeymoon destination before travel abroad became more accessible, Busan retains its romantic, seaside charms despite the plethora of high rise developments that have changed much of the face of the city over recent decades.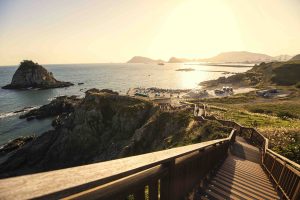 With a wide range of food for visitors to enjoy and marvelous feats of modern engineering, there is something for almost everyone to admire in this densely populated seaside strip set among rising hills.
Such strengths were on show as ASEAN Heads of Government and some 300 attendees at a banquet in Busan hosted by the Republic of Korea's President, Moon Jae In.
The region's political leaders and top diplomats were just some of those treated to hospitality in the coastal city.
From filmmakers to tourism operators, news media and social influencers, business startups to fashion houses, Busan's beauty has been beckoning with generous welcomes to experience and promote its take on Korean cuisine, coffee, cinema, and business start-up opportunities in the lead up to the ASEAN-Korea Commemorative Summit 2019.
Filmmakers, Media & Fashionistas
Among the first to arrive in Busan was Laos' award-winning feature filmmaker Mattie Do, lighting up the screen at Busan International Film Festival with her film, The Long Walk.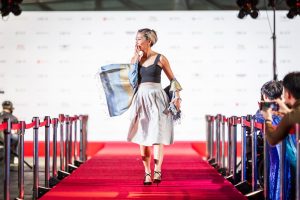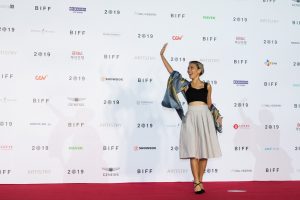 Hot on her heels was esteemed Lao photographer Phoonsab Thevongsa, a photojournalist whose work has been recognized by both local and international news agencies.
Capturing the spirit of the city, Thevongsa took in many sights, capturing them to share with a wide audience at home in Laos and beyond.
Phoonsab was joined in Busan by veteran Vientiane-based Australian media contributor, correspondent Steven Cleary, supporting and promoting ongoing media development in Laos.
With them were some 36 personnel from across ASEAN's traditional and new media, reporters, photographers, and social media stars from Laos' ASEAN neighbors, from Brunei all the way to Vietnam.
Not to be outdone, fashion creators from Laos joined Korean and ASEAN colleagues including the founder of Lao Fashion Week and Ministry of Silk Ms. Pany Saignavong and Lao weaving master Viengkham Nanthavongdouangsy of KHANG.
Busan Means Business
South Korea's New Southern Policy has the country reaching out to new and emerging trade opportunities in ASEAN, seen rarely if ever before.
Laos' own award-winning startup Ai Hak was among the startup businesses present in Busan to hear more while polishing business plans and making their own pitch to potential investors.
Taste of Korea in Vientiane
Lao folks in the capital were not left out as Korean entertainment, traditional culture and cuisine landed at Vientiane Center Shopping Mall in the form of Taste of Korea 2019.
Politics & Diplomacy
"We are facing such new challenges as protectionism, transnational crime, and the Fourth Industrial Revolution," South Korean President Moon Jae In told ASEAN leaders, stressing the need for stronger ties between South Korea and ASEAN following their 30th year of dialogue relations.
The 2019 ASEAN-Korea Commemorative Summit was co-chaired by Moon and ASEAN's 2019 chair Thailand's Prime Minister, Prayut Chan-o-cha.
"Only our cooperation and solidarity can help us prevail over the challenges," Mr Moon said.
Busan Discusses River Basins' Development
It comes as leaders of South Korea and ASEAN's five Mekong nations agreed to prioritize cooperation in seven fields, stepping up efforts to synergize Korea's development experience and the Mekong region's growth potential.
Mekong-Republic of Korea cooperation is planned in a) culture and tourism, b) human resources development, c) agriculture and rural development; d) infrastructure; e) information and communication technology (ICT); (f) environment; and g) non-traditional security challenges, according to a joint statement issued after the inaugural Mekong-Republic of Korea Summit in Busan entitled "Mekong-Han River Declaration for Establishing Partnership for People, Prosperity and Peace."
Traveling On Busan Time
With so much of what Korea has to offer offered at a more relaxed seaside speed than the hectic pace of its more famous capital Seoul, Busan has something for both business and leisure travelers' tastes.
So with Summit affairs over, the end of year festive season upon us and 2020 just around the corner, it might be the best time to say a big "Bpai Bpai" to Busan, Korea's southern gateway.
Busan (Gimhae Airport) is accessible via direct flight from Vientiane Capital (Wattay International Airport) via Air Busan or through its busy port and international cruise terminal. Busan is a city that is more than ready to attract more and more ASEAN visitors including those from Laos.
The Laotian Times was privileged to have been invited to travel to Busan with the generous sponsorship and support of the Busan Tourism Organization.