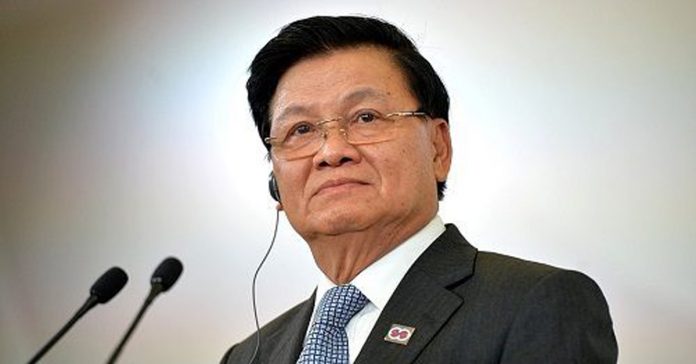 Lao Prime Minister Thongloun Sisoulith gave an exclusive interview in South Korea, and where he said he expects more investment in Laos from South Korean firms.

During the interview with South Korean daily Asia Today, Lao Prime Minister Thongloun Sisoulith said that South Korea had assisted Laos over the years in achieving its goal of graduating from least developed country status by 2020. He said that and he is to form a business-friendly environment to attract more South Korean investment in the country.
The following is a full translation of his interview with Asia Today published on December 10. The original text in Korean is available here.
How are Laos and South Korea currently cooperating and what can be done to bolster it?
First of all, I am glad that cooperation between the two countries has been steadily growing since the establishment of diplomatic relations. Mutual visits by high-level officials in various fields, including economic, tourism and labor sector, and cooperation between the two countries is on the rise. The two countries should further develop existing cooperation in areas such as rural development and establishment of modernized ICT systems, manufacturing and product innovation, and human resources development. The government should also create conditions for more talent exchanges.
Another important sector is public health cooperation, which can help reduce the child mortality rate, and improve the health of the people and increase life expectancy.
South Korea and Laos should also cooperate in implementing agreements made by leaders of the two countries.
Which fields are South Korean companies operating in?
Over the past few years, South Korea has contributed to Laos's social and economic development plan for its goal of becoming a developed country by 2020. So far, more than 100 South Korean companies have already begun running businesses in Laos. South Korea has become the fifth largest investor in Laos. Korean companies are investing in various areas such as energy, tourism, hotels, restaurants, automobiles, banking and finance.
Please tell us about efforts to attract foreign direct investment
The Lao government has come up with policies to create an investment-friendly environment, encouraging investment in all economic sectors at home and abroad. For example, it provides infrastructure and information, taxes, and rights to use labor and land. It also raises awareness of the legal rights of financial access, equal treatment, inheritance and transfer rights, and protects ownership.
The Lao government encourages business and investment in all fields except the those that pose a risk to national security, environment, health or the culture of our people. It also offers special benefits for certain sectors.
What areas of business do you encourage South Korean companies to explore in Laos?
I would suggest high-tech and scientific research, R&D, innovative and environment-friendly technologies, and also areas that use natural resources and energy efficiently. We also encourage clean and non-toxic agriculture, production of plant seeds, animal feed, industrial farms, forestry development, protection of environment and biodiversity, and activities to promote rural development and poverty reduction.
Environmentally friendly agriculture processing industries, traditional handicraft processing industries, and sustainable natural, cultural and historical tourism development industries are also areas that need foreign investment.
Foreign investment is also urgently needed in education and sports human resources, labor technology, vocational training institutions, production of educational and sports equipment, the construction of modern hospitals, pharmaceuticals and medical equipment factories, traditional medicine, reduction of urban traffic congestion, public infrastructure of residential facilities, agricultural and industrial production infrastructure, and transportation services. Modern convention facilities where policy banks and microfinancing institutions can promote themselves, as well as exhibitions promoting world-famous brands or domestic handicrafts and agricultural products, are also necessary.
What is the current assessment of Lao society and economy?
Based on the national characteristics, situation, international environment and national development priorities, the "8th National Social and Economic Development Plan (2016-2020)" and the "Vision 2030 Plan" are in place to achieve sustainable development goals.
Laos is regarded as a developing country with a moderate income that has innovative, natural-friendly and sustainable economic growth. It has an industrial base and a strong basic infrastructure system to support industrialization and modernization.
We follow the socialist market system. We value social justice, peace, and order. The livelihood of the people has improved and solidarity among people is being promoted. The development gap between urban and rural areas is also decreasing. In particular, the country is pushing for human resources development so that anyone can use quality social services. The people's rights are protected under effective laws, and the administrative system is strengthening to achieve sustainable development goals. Laos is protecting the environment by efficiently utilizing natural resources to ensure sustainability and is also politically stable.
Could you tell us more about the "8th National Social and Economic Development Plan (2016-2020)" and the "Vison 2030 Plan"?
Laos is improving infrastructure to connect with neighboring countries through large-scale projects such as highways, airports, ports, logistics systems, industrial complexes and smart cities, including railways linking China and Laos. The country is also promoting potential industries for future export of textile handcrafted goods such as agricultural products and electricity, minerals, cotton, silk, and wool. It is also making efforts to develop tourist sites, transportation services and other necessary infrastructure related to clean agriculture. To this end, the Lao government is effectively improving its administration and rule of law.