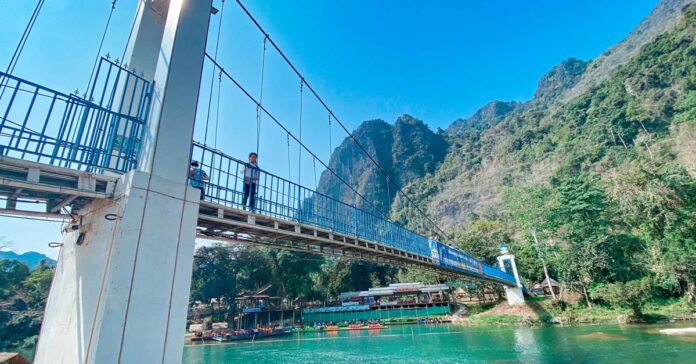 Vang Vieng's blue bridge, known as Khoua See Fa Tham Non, is offering free passage until 2022.
The bridge, spanning the Song River, was constructed by Wonderful Travel Co., Ltd and officially opened to the public in August 2019.
Located just beyond the Vang Vieng fresh market, at 16 meters high and 110 meters long, the bridge allows road traffic to easily and conveniently cross the river and access tourism sites on the other side.
President of Wonderful Travel Co, Mr. Bounphan Vongsamphan spoke with the Laotian Times, saying the bridge, officially known as Tham Non Blue Bridge, or Khoua See Fa Tham Non, has become a tourism site in its own right.
It was constructed over 3,574 square meters, and is valued at over LAK 1.6 billion, according to Mr. Bounphan.
"We have been offering passage across the bridge free of charge since 2019, and will continue to do so until 2022," he said.
"However, we expect to begin charging for use of the blue bridge from 2023 until 2030," Mr. Bounphan Vongsamphan added.
Vang Vieng authorities said recently that the town had received over one million visitors in the last five years, with 700,000 of these foreign tourists.
Due to Covid-19 pandemic, however, the number of visitors to Vang Vieng has dropped to just 30 percent of its pre-pandemic volume.
The opening of the Vientiane to Vang Vieng Expressway has cut travel time, and resulted in a surge of domestic tourists on weekends and holidays.
The blue bridge is located in Houy Sangao Village, Vang Vieng District, in Vientiane Province, and provides access to areas beyond Vang Vieng town. Activities for visitors in the area include a viewpoint on the bridge, as well as kayaking, ziplining, caving, and more.