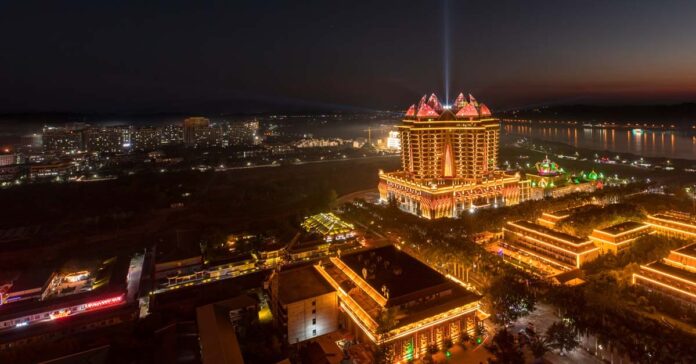 Authorities of the Golden Triangle Special Economic Zone (SEZ) have issued a statement regarding a protest by laborers from Myanmar.
A video released on Friday depicts hundreds of laborers from Myanmar protesting in the SEZ.
The protest was sparked by unhappiness with unemployment and dissatisfaction with Covid-19 prevention and control measures during a lockdown in the SEZ, according to Lao Phattana.
SEZ authorities mediated for two hours before the demonstrators agreed to terms and returned to their accommodation.
While no one was injured in the incident, officials remain concerned about the spread of Coronavirus in the community as a result of the protestors' failure to maintain social distancing.
Following the protest, authorities have conceded to provide housing, food, and Covid-19 vaccinations during the lockdown period.
Reports in social media say that prior to the protest, workers in the SEZ had had to pay CNY 200 for a Covid-19 vaccination, as well as fees for food and rooming.
Bokeo authorities have issued a notice stating that employers must protect laborers in the Golden Triangle Special Economic Zone during the lockdown.  It states that they must provide assistance to workers for food and accommodation, as well as ensuring the protection of workers' rights.
The Golden Triangle Special Economic Zone (SEZ) went into lockdown on Friday following the confirmation of community spread after some local workers left the zone.
It will remain under lockdown until 15 August, with unauthorized entry and exit into the area prohibited.