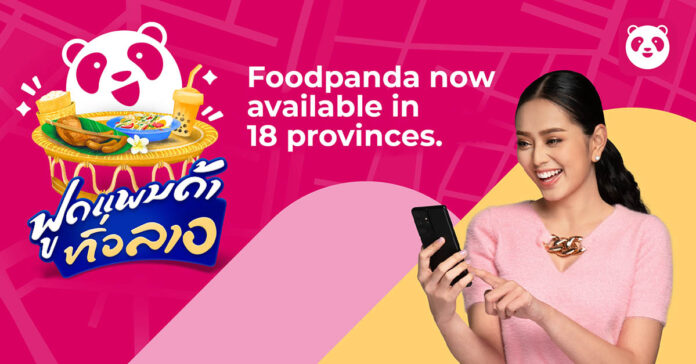 Foodpanda, a leader in the food delivery industry has announced its milestone of achieving nationwide coverage, becoming the first and only operator to offer food delivery services in all 18 provinces across Laos. 
foodpanda was launched in 2019 and it is driven by an aggressively hyperlocalized strategy built on the deep understanding of its consumers and restaurant partners. foodpanda provides earning opportunities for its riders, as well as helping its restaurant and retail partners grow their online businesses and convenient delivery service for consumers. Local restaurants, grocery stores, and riders across the country have benefitted from additional earning opportunities via the foodpanda platform. 
Mrs. Thanyalat Chalernsouk, Managing Director and Co-founder of foodpanda (Laos)
who has been leading foodpanda Laos since its beginning, said, "As a pioneer in the food delivery business in Laos, we've witnessed the tremendous growth of the food delivery industry over the past 2 years. We've seen thousands of businesses grow and thousands of riders earning a living via the foodpanda platform and today, we're very proud to provide these opportunities to many thousands of vendors and riders across Laos with our nationwide coverage of all 18 provinces."
"By growing our footprint nationwide, foodpanda creates a sustainable ecosystem even outside the big cities by helping small stores in every province, so that they can earn more and maintain a better digital presence to keep up with changing consumer needs. With more consumers turning to deliveries for their food and daily essentials, this also creates more opportunities for riders to earn a living via the platform. As we work together to transition to a new normal, businesses must continue to adapt and innovate and foodpanda is committed to developing our services to meet the needs of our community in Laos," she added.   
In addition to online food deliveries, which foodpanda has been offering in Laos, in August 2021, the company also introduced pandamart, which offers groceries and daily essentials within 25 minutes, with plans to expand to major provinces in the following years.
In celebration of the nationwide milestone, foodpanda will also be launching a marketing campaign so consumers can enjoy exclusive deals from 11 AM to 5 PM with the "EVERYWHERE" code which offers 20% off on a minimum order of LAK40,000 until 31 October 2021. 
With this campaign, foodpanda thanks its consumers' for their support over the past two years, as well as partner restaurants and dedicated riders who have offered the best service to our consumers.