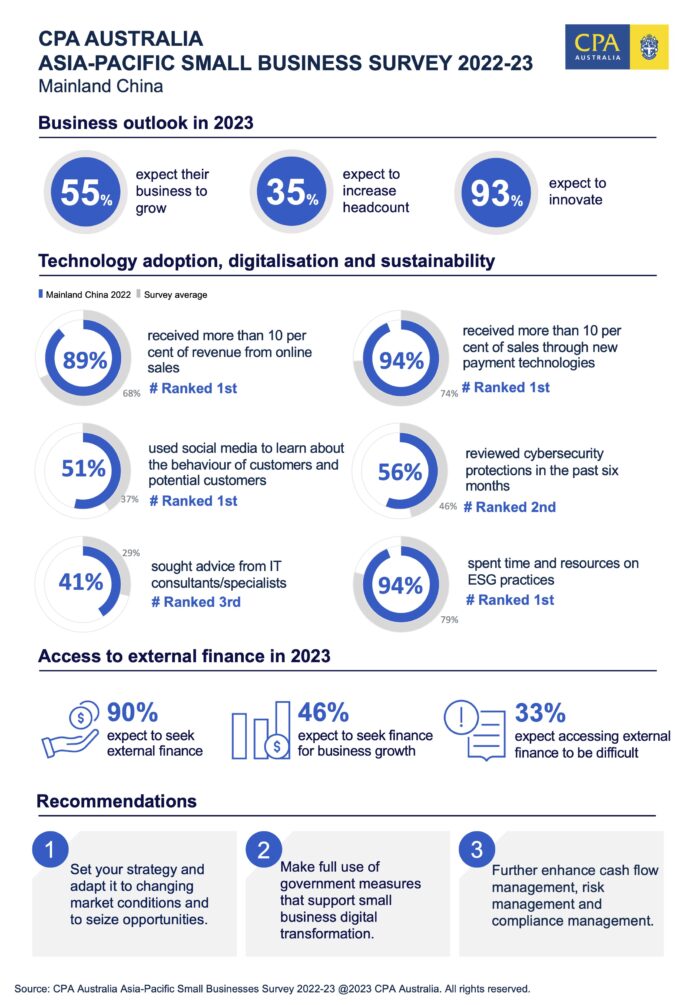 New survey shows over half of small businesses expect to grow this year.
Over 90 per cent of small businesses in Mainland China plan to innovate.
Technology investments boost profits for the majority.
BEIJING, CHINA – Media OutReach – 21 April 2023 – More than half (56 per cent) of Mainland China's small businesses expect to grow in 2023. Meanwhile, their investments in technology and innovation will pay dividends, according to a new survey by one of the world's largest accounting organisations.
CPA Australia's Asia-Pacific Small Business Survey reveals over one-third of small businesses (35 per cent) in Mainland China are planning to increase their employee headcount this year. The result was a slight increase from 2022.
Mainland China's small businesses have consistently outstripped their Asia-Pacific peers for technology use over the past five years. This includes earning revenue from e-commerce, adopting digital payment technologies and using social media for business purposes.
"In Mainland China, 87 per cent respondents come from businesses older than five years. These businesses demonstrated strong resilience during the pandemic and overcame many challenges," said Mr Lloyd Peng, President of CPA Australia's North China Committee.
"Businesses are using the experience gained from the past few years to strive for growth in 2023. For example, by adopting cutting-edge technology, innovating and improving their customers' experience.
"The government has announced a series of timely policies to support micro, small and medium-sized enterprises. These measures aim to improve businesses competitive edge, ease financing conditions, stabilise raw material prices and promote innovation.
"If these policy supports are implemented in a consistent and predictable way, it could further unleash the potential of small businesses to achieve high-quality growth."
Mainland Chinese respondents were more likely (41 per cent) to have sought professional advice from IT consultants last year than survey average (29 per cent). They also intend to innovate strongly. Ninety-three per cent of Mainland Chinese respondents plan to innovate in 2023, the highest in the Asia-Pacific.
"Mainland Chinese small businesses are reaping rewards from their focus on technology. The majority (61 per cent) found technology investments last year boosted profits," Mr Raymond Zhu, President of CPA Australia's East and Central China Committee said.
"Supported by government policies such as the 14th Five-Year Plan and extra tax deductions for research and development, we expect this tech focus to continue."
"To make the commercialisation of new products or services a success, we recommend businesses start by focusing on understanding changes in customer behaviour. We also encourage them to explore opportunities in markets such as the Greater Bay Area, ASEAN and Belt and Road markets."
"Policymakers should review and improve individual income tax policies for businesses from key industries. This will help attract more science, technology, engineering and mathematics talent to the small business sector."
Easing of financing conditions is essential for business success in 2023. The survey found that 90 per cent of Mainland Chinese small businesses expect to seek external funds this year. Forty per cent reported their main reason to seek funds is for survival, while 46 per cent intend to use funds for growth. However, one-third expect it to be tough to access funds.
"Small businesses typically have a low credit rating and insufficient collateral. Hence, it may be difficult to obtain finance from traditional sources such as banks," said Mr William Huang, member of CPA Australia's South China Committee.
"The survey shows small businesses in Mainland China have diverse funding sources. This includes banks (29 per cent), investors, venture capital or angel funds (30 per cent) and non-bank financial institutions (18 per cent).
"Small businesses with unique advantages, especially those that have capacity to introduce novel and specialised products, are more likely to attract investment from investors. We recommend small businesses pay close attention to their cash flow, forecast their financial needs and optimise their business models."
Hashtag: #CPAAustralia #SME #Economics
The issuer is solely responsible for the content of this announcement.
About CPA Australia
CPA Australia is one of the largest professional accounting bodies in the world, with more than 172,000 members in over 100 countries and regions, including more than 22,200 members in Greater China. We have offices in Beijing, Shanghai and Guangzhou. CPA Australia provides thought leadership on local, national and international issues affecting the accounting profession and public interest. We engage with governments, regulators and industries to advocate policies that stimulate sustainable economic growth and have positive business and public outcomes. Find out more at
cpaaustralia.com.au