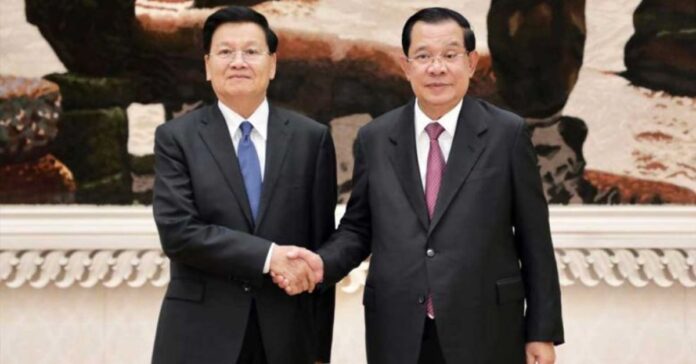 The top leaders of Laos and Cambodia met on Thursday at the Peace Palace in Phnom Penh to further strengthen "already excellent" bilateral relations.
President Thongloun Sisoulith met with Prime Minister Hun Sen of Cambodia, not long after he paid respects to the late Cambodian King, Norodom Sihanouk, by laying wreaths at his memorial.
The two leaders announced their joint commitment to deepen the relationship between the neighboring countries, with President Thongloun thanking PM Hun Sen and the people of Cambodia for their support in boosting Laos' economy and health sector, Phnom Penh Post reports.
Hun Sen also quotes President Thongloun by saying, "Relations between Laos and Cambodia are at the top, but we are united in our commitment to take it to (an) even higher level. We intend to implement existing agreements and seek to cooperate further in the areas of tourism, investment, and security. In addition, we are prepared to offer a unified response to natural disasters." 
The Secretary-General of the Royal Academy of Cambodia, Yang Peou, said that Laos and Cambodia have maintained a long and healthy relationship, which will likely be enhanced by the connection of Laos, Cambodia, and China via a high-speed rail line.
"We benefit from a win-win agreement between Laos and Cambodia. We have a seaport, which they [Laos] lack, and they have a shared border with China, which we lack. These connections facilitate the flow of goods and investment", he said.
During his official three-day state visit to the capital, President Thongloun will also be attending the opening ceremony of the 32nd Southeast Asian (SEA) Games.