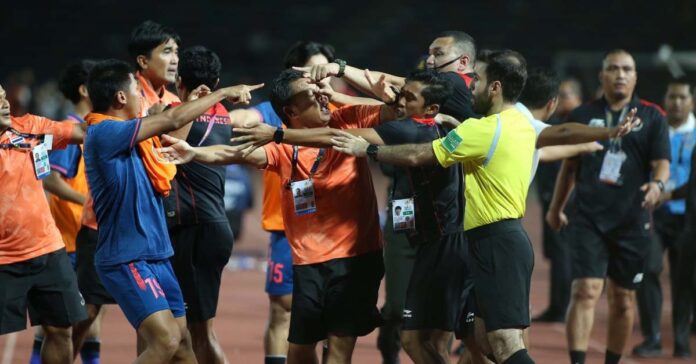 Coaches and players from Thailand and Indonesia started fighting during the final football match at the Southeast Asian Games in Cambodia on Tuesday.
According to VNExpress, In the second half of the match, when Indonesia took a 2-1 lead, its players mistook the referee's call for Thailand's penalty shot as an indication that they had won the game.
Thai coaches and athletes taunted their Indonesian counterparts after scoring a penalty goal, which led coaches and players from both countries to begin a physical scuffle.
Police and SEA Games officials had to enter the field to resume the match and prevent either teams from further escalating the situation.
The referee of the match Qasim Matar Ali managed to communicate with Issara Sritaro, the Thai football coach, and Indra Sjafri Shin Tae-Yong, the Indonesian football coach before they shook hands and continued the match.
The Indonesian football team emerged from the conflict with a 5-2 win over Thailand, which also earned the team a gold medal. However, five red cards were handed out to athletes from both countries, due to their objectionable behavior on the field.
The 32nd Southeast Asian Games will conclude on May 17 in Phnom Penh, Cambodia, and Thailand will host the next Southeast Asian Games in 2025.
With 136 gold medals, Vietnam has won the most top accolades so far, followed by Thailand with 108 and Indonesia with 87.