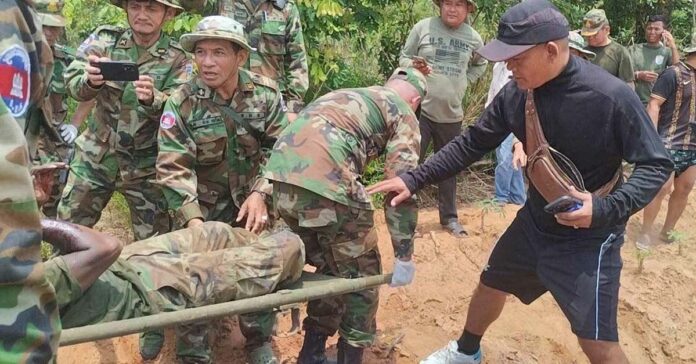 A soldier from the Cambodian military was seriously injured by a landmine explosion while attempting to save a Thai woman who had stepped on another landmine on Saturday.
The incident was reported in Cambodia's northwest province of Banteay Meanchey, where 43-year-old Samrit Rouyrim from Thailand stepped on a landmine.
The Thai woman crossed the border into Cambodia unknowingly, around 200 meters from Sa Kaeo province to collect fruits before stepping on the mine and losing her right leg due to the explosion at the scene.
A group of Cambodian military personnel stationed nearby attempted to save the victim when the landmine exploded; however, Seng Chhorn, a 49-year-old military personnel, stepped on another landmine.
The second blast caused severe injuries to his face and throat and the officer was immediately taken to the hospital, said Major Lon Bunsoeun, Deputy Police Chief of Thmar Puok district.
The Cambodian Mine Action Centre (CMAC) inspected and cleared other mines in the area, while Thai military personnel rescued the woman to return to her home country.
The 43-year-old Thai woman survived the explosion and is currently being treated at the local Aranya Prathet, Sa Kaeo province hospital. The 49-year-old military personnel is also being treated, but he may lose his eyesight due to the explosion.