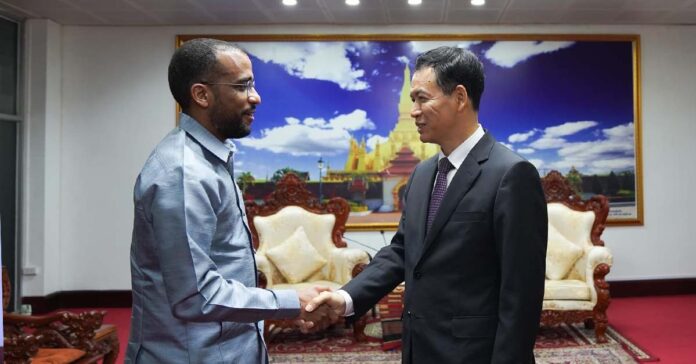 In an interview with the media at the American Center in Vientiane on 19 May, Yohannes Abraham, US Ambassador to the Association of Southeast Asian Nations (ASEAN), affirmed his country's commitment to bolstering US-ASEAN ties.
Focusing on assisting Laos in its upcoming ASEAN Chair Year, Mr. Abraham said, "Our team is dedicated to ensuring that Laos has an exceptionally successful year as ASEAN chair."
Ambassador Abraham went on to describe the ASEAN-US relationship as flourishing, referencing the Comprehensive Strategic Partnership launched by President Biden in Phnom Penh last year.
"This partnership opens endless and promising avenues for our collaboration," he said.
He also affirmed the US's ongoing economic commitment to ASEAN, noting that the US remains ASEAN's largest source of foreign direct investment, underpinning the "shared goal of promoting prosperity."
During his visit, the ambassador met with representatives from the Lao Ministry of Foreign Affairs, Ministry of Industry and Commerce, and Ministry of Communications and Technology, to discuss ongoing cooperation, including ways the US could best offer its support for Laos during its ASEAN Chairmanship.
While speaking to the media, Abraham underscored the role of youth in the region.
Celebrating the 10th anniversary of the Young Southeast Asian Leaders Initiative (YSEALI), which has engaged over 150,000 Southeast Asians, he added, "President Biden is set to significantly expand YSEALI, because we believe in empowering ASEAN's next generation."
The Ambassador's visit and US support for Laos's ASEAN chairmanship demonstrate the country's unwavering commitment to the prosperity of ASEAN nations, as well as the youth that will take on leadership roles in the future.