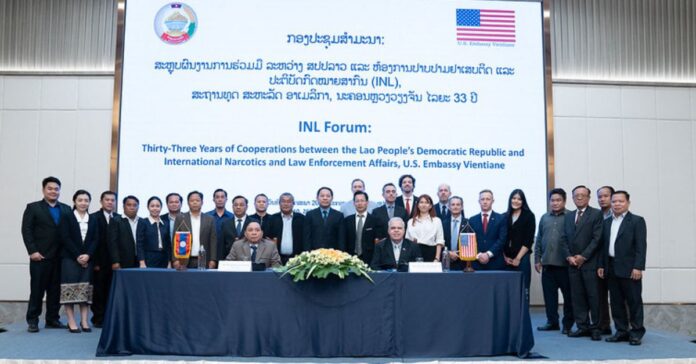 Members of the Lao government, US Embassy Vientiane, and international organizations gathered at the Lao Plaza Hotel last month to celebrate the long history of cooperation between the US Embassy's International Narcotics and Law Enforcement section (INL) and Laos spanning over 30 years, and including more than USD 75 million in assistance.
The event, "INL Forum: Thirty-Three Years of Cooperation with the Lao People's Democratic Republic," was co-chaired by US Ambassador Peter M. Haymond and Vice Minister of the Ministry of Finance Bounpone Vannachith. The forum brought together more than 70 participants to explore the areas of cooperation and assistance between INL and the Lao government. As Ambassador Haymond explained in his opening presentation, INL's assistance has transitioned over time. In the early years, assistance focused on alternative development projects to reduce the cultivation of opium poppy. Recently INL's assistance has focused more on helping the Lao government combat transnational organized crime, including the cross-border trafficking of methamphetamine and other synthetic drugs, cybercrime, and human and wildlife trafficking.
Vice Minister Bounpone spoke of the significant contribution INL has provided to help Laos combat the growing problem of narcotics trafficking. Other presenters from the Lao Customs Department, the Ministry of Public Security, the Office of the Supreme People's Prosecutor, the People's Supreme Court, and the Anti-Money Laundering Intelligence Office spoke about past and ongoing training and equipment assistance that INL has provided to their organizations. Representatives from the United Nations Office of Drugs and Crime, the United Nations Development Program, and the International Organization for Migration spoke about current INL-funded development projects in Laos.
In 1989, the US Embassy's International Narcotics and Law Enforcement section (INL) began funding assistance focused on law enforcement and justice sector development to the government of Laos. The recent forum made clear that as Laos has become more connected with ASEAN and the world, so too have transnational criminal organizations adjusted to exploit Laos as an important transit route for illicit trafficking. Because of the risks that these international criminal organizations pose to Laos, INL Director William Solley underscored that INL's assistance has increased significantly in recent years and reflects the deepening of US cooperation with Laos and other ASEAN partners in the fight against transnational crime.