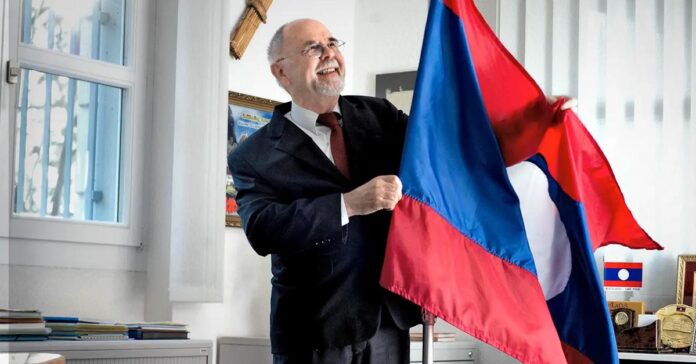 Guido Käppeli, a Swiss businessman who served as the honorary consul of Laos to Switzerland for over two decades, passed away on 22 May at the age of 79.

The late Consul was known for his relentless efforts in promoting trade and cooperation between the two nations.
Fifteen delegations from the Lao government, including Lao ambassadors to the US, the UK, Austria, and Switzerland paid their respects to Käppeli at the Kerchel in Schwyz, a city in Switzerland on Saturday. They laid a white wreath to pay their respects and announced that the government of Laos had granted Käppeli honorary citizenship posthumously.
The Lao Ambassador to Switzerland, Latsami Keomany, read a condolence letter from Mr. Seluemxay Kommasith, Deputy Prime Minister and Minister of Foreign Affairs of Laos at the gathering.
The letter also expressed the deepest condolences from Lao President Thongloun Sisoulith who considered Käppeli's passing a great loss not only for Switzerland but also for the government and people of Laos.
The delegation's visit and their gesture stand as a testament to Käppeli's significant contributions to strengthening the relations between Laos and Switzerland.
Guido Käppeli also developed a great love for Laos and its rich culture during his tenure as a consul. He vowed to strengthen the cultural and commercial ties between the two countries and played a crucial role in accomplishing the same for more than twenty years.
He consistently demonstrated his leadership skills by promoting Swiss-Lao trade relations and executing business deals with local companies across numerous sectors through his well-connected networks.
His extensive efforts towards poverty reduction, economic growth, and cultural exchange through various charitable organizations were laudable, leading to the Lao Government granting him honorary citizenship upon his demise, as a mark of respect and recognition for his work.