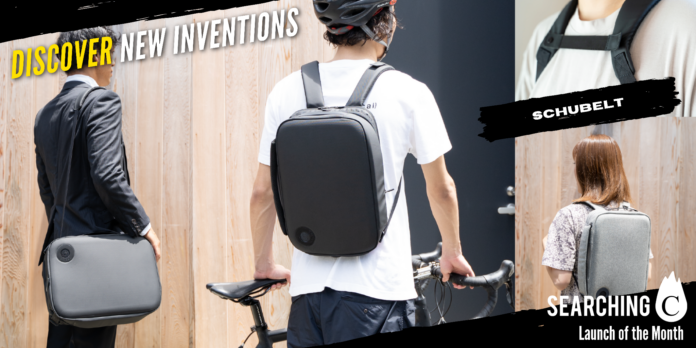 Backpack, shoulder bag, and handbag all at once, with expandable storage
HONG KONG SAR – Media OutReach – 15 June 2023 – Edison Lab from Japan today announces its partnership with leading e-commerce platform Searching C to launch the smart bag SchuBELT in Hong Kong and Taiwan. Equipped with unique retractable straps, SchuBELT is a backpack, shoulder bag, and handbag all at once. Unobtrusive design with hyper-functionality, the bag was overfunded by 180 times on crowdfunding site Kickstarter.
With borders opening up, travelling and business trips have become more frequent than ever. Travellers have encountered one common obstacle when travelling with their backpack – backpack straps tend to be in the way when they are not carrying it on the back. SchuBELT is an all-in-one bag for on-the-move. The straps are sucked inside the bag and out of the way by a special mechanism when users put it down. To top it off, the length of the straps can easily be adjusted with one push of a button, an ingenious mechanism that keeps the chosen length in memory as users release the button.
In addition, the SchuBelt is now available in a larger model with expandable storage space. The bag is equipped with a laptop compartment that can hold A4 documents, Macbook Air, Ipad, wallet, charger, keyboard, earphones etc, and a main compartment with a 180° opening for a water bottle or umbrella, and even change of clothes.
Starting today, SchuBELT is available for purchase on Hong Kong e-commerce platform Searching C, retailing at SGD 129 (early-bird price).
For more details, please visit: https://sg.searchingc.com/products/schubelt-the-smart-bag-with-retractable-straps
Hashtag: #SearchingC
The issuer is solely responsible for the content of this announcement.
About The Inventor
Kota Ogawa (Representative of Edison Lab, Inc.) is the inventor of flick input, etc. and is also a patent attorney. His great-grandfather, Kunihiko Iwadare, was a disciple of Thomas Edison and founder of Nippon Electric Co. Ltd. He is also a composer for AKB48 and Momoiro Clover Z, and the vocalist of "Kota Ogawa & Tomason". He regularly appears on FM Yokohama's weekly "SHONAN by the Sea". He is also the founder of the invention-driven product brand "EDISON LAB" and will continue to introduce new products to the world.
About Searching C
Searching C is a leading e-commerce platform with a focus on assisting quality brands to launch their innovative products in the Asia-Pacific areas. Upholding the principle of curating products from elite brands, the platform aims to bring the most innovative products created from worldwide designers to its users. With a belief in "every product tells a story", the platform is also on a mission to facilitate the exchange of culture and innovative ideas.
Based in Hong Kong, Searching C possesses an integrated product launching channel which covers both online and offline in Hong Kong, Macau, Taiwan, Malaysia and Singapore.
Website:
https://sg.searchingc.com/
Facebook:
https://www.facebook.com/SearchingC
Instagram:
https://www.instagram.com/searchingc/