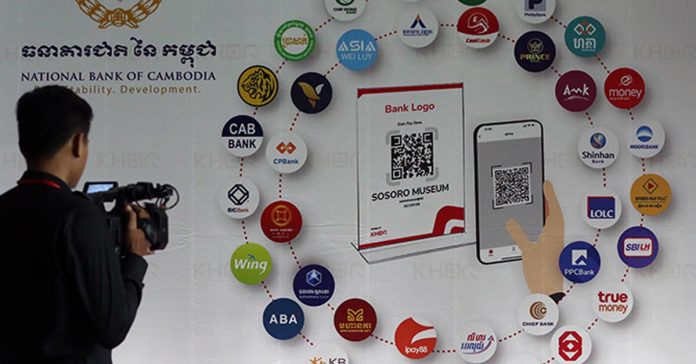 The National Bank of Cambodia (NBC) is set to ink agreements with the Bank of the Lao PDR, State Bank of Vietnam (SBV), and other countries in the region to facilitate the use of Cambodia's local currency, the riel, in cross-border payments through technological advancement.
NBC's Deputy Governor Chea Serey emphasized that the new cross-border transaction feature would increase the circulation of riel since users could scan QR codes to pay for goods and services in riel overseas from the accounts they created with banks or microfinance institutions (MFIs) in Cambodia.
This move is expected to also promote riel usage among tourists, who could make payments in the local currency by scanning a QR code, which is supported by a partner bank. Serey says, "When tourists visit our country, merchants need to have QR codes that enable them to scan in riel to make payments. So, if they place QR codes in US dollars at their counters, tourists would be unable to scan to make payments to them. All these things would further boost usage of riel." 
She also referenced the increase in riel circulation in Cambodia, which rose on average 16.6 percent annually from approximately KHR 356 million in 1998 to about KHR 14.1 trillion in 2022, despite the impact of the rising US dollar on the country's economy.
Prime Minister Hun Sen highlighted that there is sufficient riel in circulation in Cambodia's economy and the stable exchange rate between local and foreign currencies helps maintain the purchasing power of citizens' earnings.
Cambodia's efforts to maintain macroeconomic stability, prevent wage or income loss, and promote the use of its local currency within the country and across borders are expected to yield better economic outcomes and further strengthen its economy.