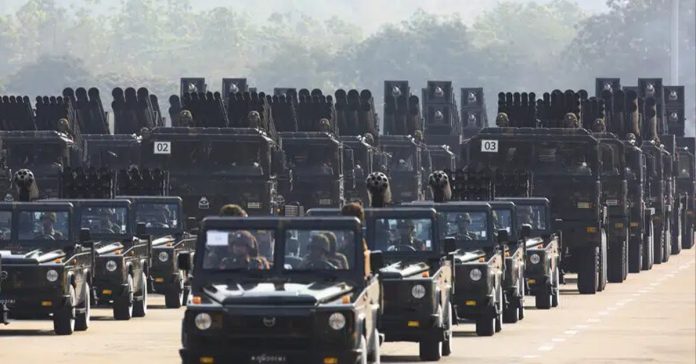 BANGKOK (AP) — Opponents of Myanmar's military government applauded fresh financial sanctions imposed by the United States on the Southeast Asian nation but called Thursday for further measures to pressure its ruling generals to restore peace and democracy.
The U.S. Treasury Department announced Wednesday it was imposing the sanctions on Myanmar's Defense Ministry and two state-owned banks, the Myanma Foreign Trade Bank and the Myanma Investment and Commercial Bank.
The move freezes any assets of the sanctioned entities that are in the United States or controlled by a U.S. person. It also prohibits all transactions by U.S. persons or carried out within or transiting the United States that the targeted entities would benefit from. That would make it difficult to carry out transactions through financial institutions involving U.S. dollars.
The sanctions are the latest by the Biden administration against Myanmar's military-installed government, after army overthrew the elected civilian government led by Aung San Suu Kyi on 1 February 2021.
The Treasury Department statement said the Defense Ministry since then has continued to import goods and material worth at least USD 1 billion, including from sanctioned entities in Russia.
The army's 2021 takeover prompted widespread public protests whose violent suppression by security forces triggered an armed resistance that now spans much of the country, amounting to civil war. Security forces have been accused of carrying out large-scale human rights violation to try to crush all opposition.
"To support its brutal repression across Burma, the military regime has relied on foreign sources, including sanctioned Russian entities, to purchase and import arms, dual-use goods, equipment, and raw materials to manufacture weapons," said Wednesday's announcement from the Treasury Department's Office of Foreign Assets Control, OFAC. "The military regime and other designated state-owned entities have relied on state-owned financial institutions that act as the primary foreign currency exchanges in Burma to facilitate these transactions."
The U.S. government refers to Myanmar by its old name, Burma.
An underground group of researchers and activists from Myanmar said it welcomed Washington's sanctions "targeting junta-controlled banks that help sustain the junta's campaign of terror."
"However, for sanctions to be effective, far more needs to be done to systematically target the junta's financial and arms procurement networks by the U.S. and its allies, said the statement from the group, Justice for Myanmar.
It urged sanctions against Myanma Oil and Gas Enterprise, MOGE, "which continues to bankroll the junta's ongoing war crimes and crimes against humanity, as well as the junta's network of cronies and arms brokers."
About half of Myanmar's foreign exchange earnings come from MOGE, mostly from sales of offshore natural gas.
The U.S.-headquartered organization EarthRights International called OFAC's action "the most consequential sanctions the U.S. has placed against the Myanmar military," since the army's seizure of power in 2021.
"The military has used these banks to launder the vital revenues it strips from Myanmar's gems, jade, timber, and gas sectors," said a statement from the group. "It can use these revenues to fund massacres and other crimes against humanity while it starves the Myanmar economy of foreign currency, ramps up its military budget, and turns off the electricity."
But it also demanded sanctions against MOGE.
The military government's spokesperson, Maj. Gen. Zaw Min Tun, charged in an interview published Wednesday in the state-run Myanma Alinn newspaper that the U.S. was placing sanctions on Myanmar to cause an economic and political crisis. But he declared Myanmar would not face any losses of currency since state-owned banks haven't opened foreign currency accounts at U.S.-based banks or their branches.
"I want to inform the people who are in contact with the banks not to worry about the news," said Zaw Min Tun, who was responding to media reports that had anticipated the U.S. move.
An official announcement from the Planning and Finance Ministry in Thursday's state-run newspapers said state-owned banks will continue to offer normal services involving transferring and receiving of foreign currencies, imports and exports, and transferring of employees' and seafarers' salaries.
In Thursday's morning trading in Myanmar's currency black market. the kyat slipped to around 3,050 to the dollar from the previous day's rate of 2,970. The Central Bank's official exchange rate is set at MMK 2,100 to the dollar.
___
By GRANT PECK Associated Press