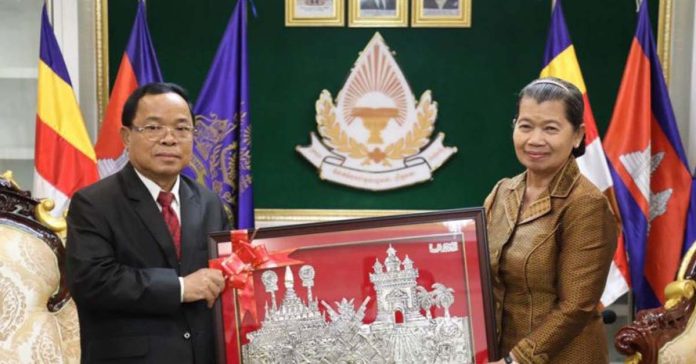 Lao and Cambodian State Inspection Authorities met in Cambodia last week to share experiences in tackling corruption, and to express their mutual commitment to anti-corruption cooperation.
The Lao delegation led by Lao State Inspection Authority (SIA) chairman Khamphanh Phommathath, paid a five-day visit to Cambodia from June 20-24 to get a better understanding of important anti-corruption techniques that have been successful in the country.
The SIA chairman praised Cambodian authorities for efficiently hosting the recent SEA Games and ASEAN Para Games and he requested Men Sam An, Minister of National Assembly-Senate Relations and Inspection, to discuss the work carried out by her department to combat corruption.
Sam An said that her department conducts thorough inspections of all administrative work, public financial management, and state property management across the Kingdom., according to Phnom Penh Post. The government also holds public forums to welcome suggestions and feedback from its citizens.
Soy Chanvichet, Cambodia Anti-Corruption Unit's (CACU) spokesperson, said that the continued anti-corruption cooperation between the two nations is beneficial to both parties. This includes exchange visits, sharing investigative information, technical assistance, and legal aid.
The SIA also signed a memorandum of understanding with the CACU, to outline a five-year cooperative framework between the two countries.