A new milestone for the newswire industry
HONG KONG SAR – Media OutReach – 27 June 2023 – Media OutReach Newswire, Asia's first global newswire, has strengthened its China distribution network, expanding the number of media partners to guarantee online news posting for its press release distribution service to 300 leading English and Simplified Chinese media partners.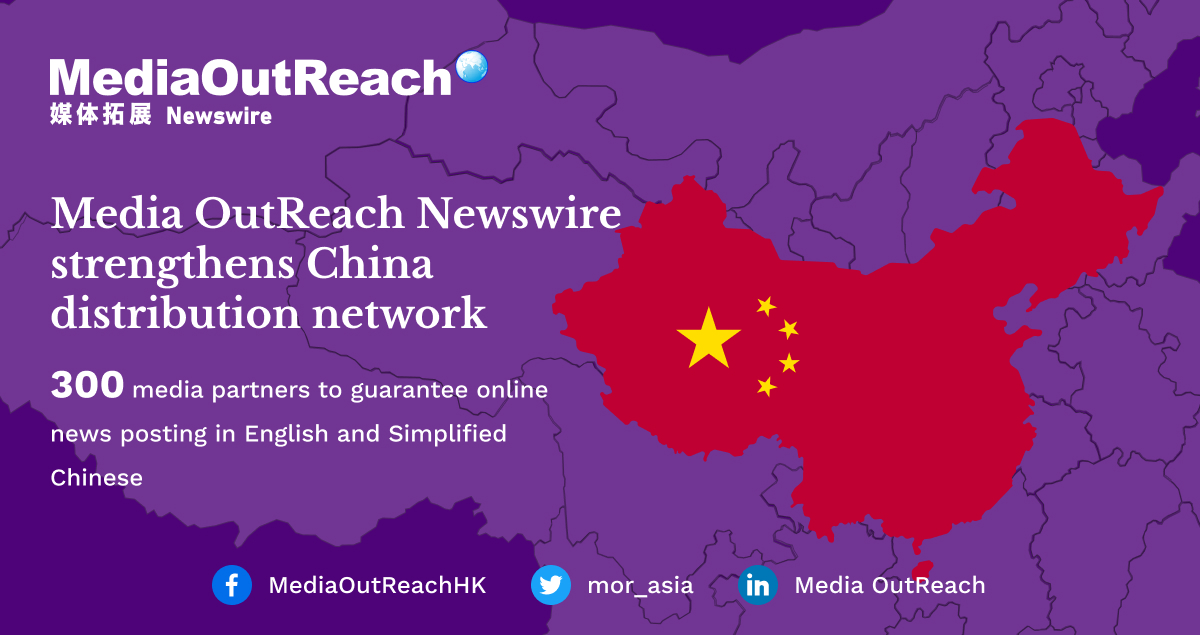 As companies in China look to global markets for new growth opportunities, Media OutReach Newswire offers comprehensive local and global press release distribution across 26 Asia Pacific markets, Africa, the Middle East, Latin America, Europe, UK, Canada and USA to support Chinese companies in building their brand internationally.
Media OutReach Newswire has been supporting Chinese corporations from OPPO to Fosun, Alibaba Cloud, IMAX China and ECOVACS Robotics to build their global brand reputation in markets including the USA, UK, Germany, Canada and Dubai and key Southeast Asia regions Thailand, Vietnam, Singapore and Malaysia as well as Mainland China.
Media OutReach Newswire's global press release distribution network offers an authentic service that connects clients in China with journalists to build media relations, post their news on real media sites and reach investors through the companies news posting into all of the world's leading financial services in English and Simplified Chinese such as Bloomberg, Refinitiv Eikon, Dow Jones Newswire, Factset, Infront, Morningstar and international news services Reuters News Agency, Associated Press (AP) and Agence France Presse (AFP).
As the first global newswire in Asia to build a dedicated distribution network for China brands to expand globally, clients will have unlimited access to multiple industry media from business, finance, automotive, cryptocurrency, education, fashion, mobile, eSports, gaming, healthcare, consumer technology, travel, women, the arts and other news categories.
Media OutReach Newswire is the only global newswire that specialises in Asia Pacific with its own distribution network spanning 26 countries in the region. It has a database of 140,000 journalists and editors, covering 400 news trade categories and partnership with more than 600 online media to provide guaranteed online news posting.
Across the China market, Media OutReach Newswire's partners include leading national news sites Netease, Sohu, Sina, Tencent, TouTiao, iFeng, Zhong Guo Wang, in addition to top finance platforms Futu Niu Niu Juan, EastMoney and Xueqiu.
The expansion further cements Media OutReach Newswire as the most comprehensive press release distribution partner in China and across the Asia Pacific region that connects Chinese clients with real journalists to generate coverage and build media relations. Post-release reports, available in English and Simplified Chinese, show how many journalists engaged with their press release by publication and country through the Media and Journalist Insights Report, the only newswire to offer this service.
To help PR professionals communicate their news effectively, Jennifer Kok, Founder and CEO of Media OutReach Newswire, says Media OutReach Newswire's pricing structure in China will remain unchanged, with a single fee applied for unlimited trade categories.
"Our commitment lies in providing a robust platform that empowers companies in China to establish and strengthen their brand using our authentic newswire service, without incurring any additional costs," Kok says.
"With this expansion, Media OutReach Newswire solidifies its position as the most comprehensive press release distribution partner, dedicated to empowering Chinese companies to build their brand through an authentic and specialised press release distribution service across the Asia Pacific, including key Southeast Asia markets, as well as the USA, UK, Germany, France the Middle East and Africa."
Media OutReach Newswire has established a strong footprint in China, launching the industry's first dedicated press release distribution network for the Greater Bay Area.
The Greater Bay Area, encompassing major cities Guangzhou, Shenzhen, Zhuhai, Foshan, Huizhou, Dongguan, Zhongshan, Jiangmen and Zhaoqing, plus Special Administrative Regions of Hong Kong and Macao, has emerged as a crucial economic powerhouse and innovation hub strategically positioned as a gateway to connect Southern China to global markets, while empowering global business to secure a footprint in one of the fastest-growing economic regions in Asia.
Hashtag: #MediaOutReachNewswire #pressrelease
The issuer is solely responsible for the content of this announcement.
About Media OutReach Newswire
Launched in 2009, Hong Kong-based Media OutReach is the first global newswire founded in the Asia-Pacific region with offices in Singapore, Malaysia, Vietnam, Japan, China, Thailand and Taiwan.
As a pioneering global newswire agency and the voice of Asian companies, Media OutReach is the only press release newswire that owns its distribution network in 26 countries across Asia Pacific region. Our network of media assets includes more than 140,000 journalists, 400 trade categories, 65,000 media titles and partnerships with more than 600 authentic media to guarantee online news postings.
With proprietary SAAS technology at our core, we distribute multi-language and multimedia press release content directly to the inbox of editors and journalists to optimise coverage, build media relations and provide pioneering insights on PR campaign performance. Our guaranteed online news posting turns our clients' releases into organic stories on our media partner news sites.
For more information about Media OutReach Newswire's services and distribution network, please visit

www.media-outreach.com.