Flash flooding has been reported in parts of Vientiane Capital this week, with residents saying the chronic issue is caused by poor drainage.
Residents in Sikhottabong and Xaythany districts have reported flash floods inundating their homes and blocking the roads, a chronic problem that came to a head last year after several parts of the nation's capital suffered severe flooding.
Affected communities say floods have been caused by lengthy road and residential construction projects that allow sand and other runoff to clog drains.
"When any construction project starts, the contractors bury the drainage system, which is why the roads in front of my house are now flooded. It happens every year!" One affected resident in Sikhottabong district told Laotian Times.
Meanwhile, residents in the nearby Xaythany district have also been impacted, with floodwaters reportedly inundating more than 20 hectares of rice fields and destroying agricultural produce.
Mr. Khanxay Keophankham, Chief of Lat Khouay Village in Xaythany district, said in an interview with Vte9 News that the drainage pipes in his village are undersized, resulting in slow drainage of floodwaters.
In response to the situation, the Xaythany District Office of Public Works and Transport has conducted an inspection in collaboration with local authorities to evaluate the extent of the damage and find a suitable resolution.
Addressing the need for proactive measures, the village chief has appealed to authorities to provide a long-term solution to the recurring issue of flooding in his community.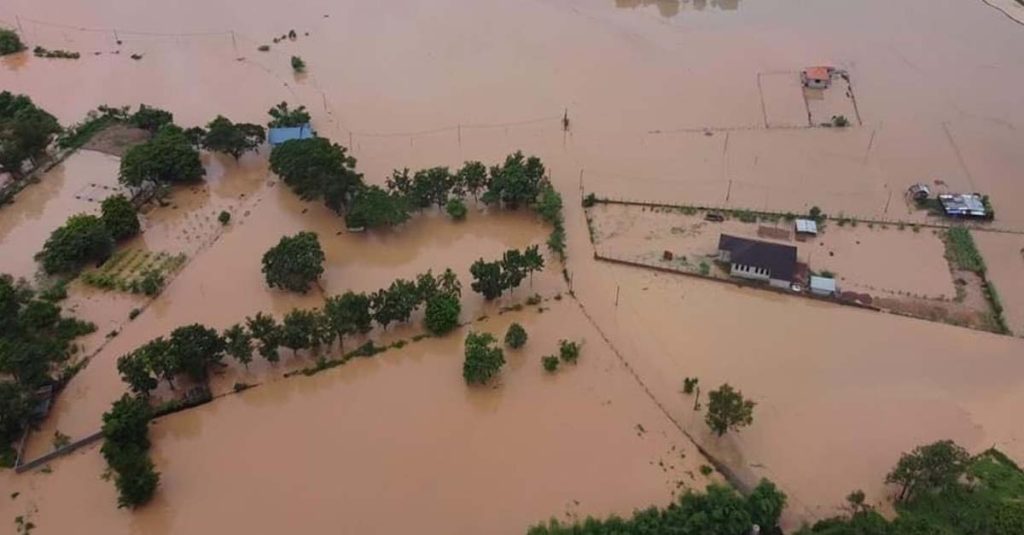 The Department of Public Works and Transport set a budget of nearly LAK 20 billion (over USD 1 million in 2023) to address both temporary and long-term flooding on major roads throughout Vientiane's Capital in August 2022.
Director of the Vientiane Public Works and Transport Department, Mr. Soulivanh Phommahaxay, said that the slow drainage of water in areas of the Sikhottabong District and the issue with some businesses building facilities and blocking drainage caused the floods in Vientiane Capital in 2022.
With 2023 officially classified as an El Niño year, the typical impact of El Niño on Southeast Asia is drier-than-average rainfall conditions, according to the Weather and Climate Services for ASEAN (ASMC). Despite the reduced risk of natural floods, improper design and maintenance of infrastructure continue to cause flash flooding in urban areas during the monsoon season in Laos.