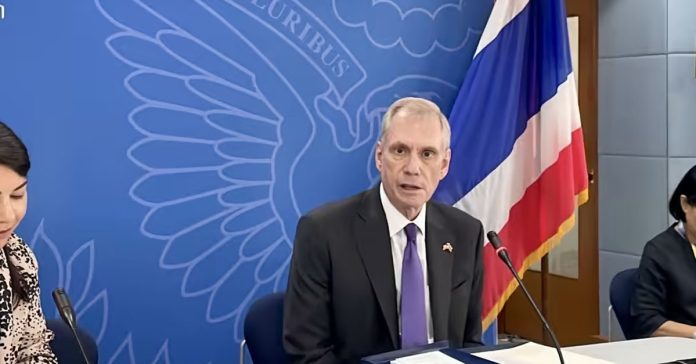 Ahead of the Thai parliament reopening next Monday, the Embassy of the United States in Bangkok has dismissed allegations of American interference in the 14 May general election in Thailand.
Conspiracies first emerged when Thailand's conservative party lost to Harvard alumni and leader of the progressive Move Forward Party, Pita Limjaroenrat, in the lower house.
U.S. Ambassador Robert Godec spoke at a press conference on Tuesday, reiterating that the United States did not play a role in the election or favor any party. 
At his first media roundtable since becoming ambassador to Thailand, Godec said, "These conspiracy theories and false rumors that are out there, frankly, do a disservice to the tens of millions of Thais who participated in the political process."
Godec had first denied these allegations when conservative groups gathered outside the U.S. Embassy in Bangkok to protest alleged U.S. interference. He also emphasized that the U.S. has no preferred candidate or political party in Thailand.
"The United States wants Thailand to be stable and prosperous," Godec said, adding that the U.S. is committed to working with the next Thai government on business, education, security efforts, and the Washington-led Indo-Pacific Economic Framework.
However, prolonged political uncertainty may further cloud Thailand's economic, trade, and investment opportunities.
Embassies across Bangkok are also keeping a keen eye on Thailand's caretaker government, as it hosted an informal regional meeting to discuss the conflict in Myanmar with other ASEAN member countries.
The meeting was attended by representatives from Myanmar's military but was boycotted by Indonesia, Malaysia, and Singapore in favor of a formal ASEAN-led process.
Commenting on the situation in Myanmar, Ambassador Godec said he respected ASEAN centrality but stressed the importance of Thailand's "critical role with respect to Burma (Myanmar)"
"There are opportunities for further progress to deal with the horrific situation that the current military regime in Burma is responsible for," he said, suggesting potential sanctions and strategies to ramp up pressure on the Myanmar dictatorship.