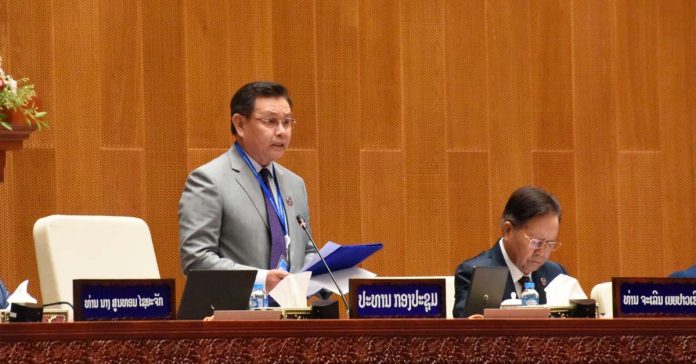 During the ongoing Fifth Ordinary Session of the Lao National Assembly, constituents from the Ninth National Assembly Legislation celebrated the 134th anniversary of the International Day of Parliamentarism.
President of the Lao National Assembly, Xaysomphone Phomvihane, read a message of appreciation to commemorate the 134th anniversary, saying, "I extend my heartfelt best wishes to the leaders and members from IPU member countries, as well as all the members of the Ninth National Assembly of Laos." 
Since joining the Inter-Parliamentary Union (IPU) on 4 April 1990, the Lao National Assembly has actively participated in the General Assembly and meetings at various levels within the organization.
Laos' active participation in IPU reflects the government's commitment to advancing peace, stability, and security in the region.
The date of 30 June serves as an opportunity to commemorate and evaluate the performance of legislative bodies as representatives of the people's rights, interests, and aspirations, as adopted by the International Parliamentary Union and the United Nations General Assembly.
This year's World Parliament Day celebration carries the theme "Parliaments for the Planet." This topic aligns with the challenges the world currently faces, such as natural disasters, famine, inflation, energy concerns, economic stagnation, and military conflicts in various regions.
These challenges have heavily impacted socio-economic development and the lives of people in both developed and developing countries, including Laos.
While addressing the National Assembly, Mr. Phomvihane said, "Members of Parliament, as representatives of the Lao people, stand ready to continue cooperating and supporting the various plans of the Inter-Parliamentary Union."
The Inter-Parliamentary Union, or IPU, is a global parliamentary organization of 178 member countries and 14 international organizations. Its objective is to provide a platform for communication, coordination, and exchange of experiences among parliaments and parliamentarians worldwide.