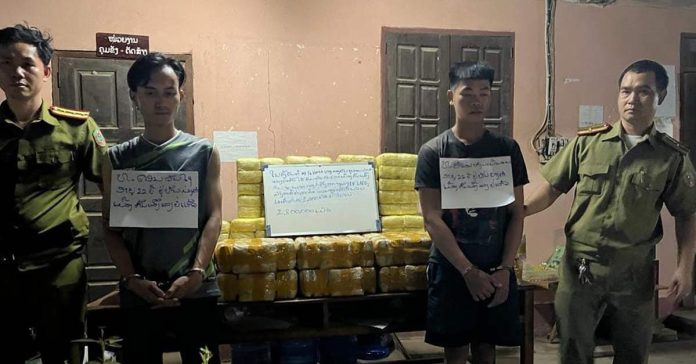 Tonpheung police in Bokeo province detained two suspects last week for ferrying 2.8 million methamphetamine pills across the Mekong River from Myanmar.
While patrolling the river in the area of Seebounhueang and Mone villages, Tonpheung police spotted a small boat crossing the Mekong River from Myanmar. The boat was docking at Muang Kham village port when the police followed it and found a group of drug smugglers unloading a large consignment of methamphetamine pills.
After spotting the police, a few of the traffickers fled on the same boat with the remaining drugs which was yet to be unloaded, while others ran into local houses to escape arrest.
After searching the area, the police detained two suspects hiding in local houses. The two were identified as Kham An, 22, from Yangkham Village, and Done, 22, from Muangkham Village.
In addition to the 2.8 million meth pills, the police also seized four mobile phones, THB 129,000 (USD 3,692), and a bank deposit book from the house where the suspects were hiding.
The police are continuing to investigate the case and are looking into the source of the drugs and their intended destination while also trying to identify the other traffickers who escaped the scene.
This is the latest in the series of drug busts conducted by police in Laos. Just two weeks ago, police in Xayaboury province apprehended six Lao residents who were attempting to transport 12 million methamphetamine pills to Vientiane Capital.