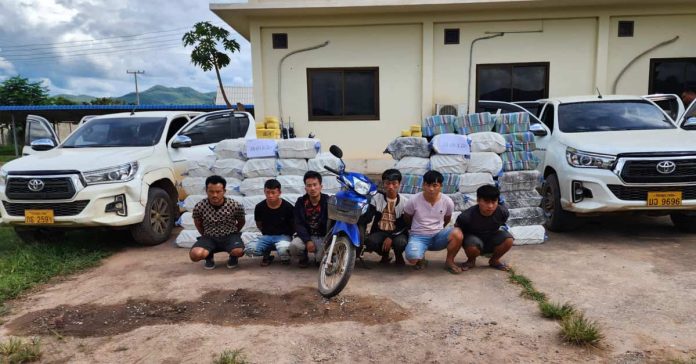 Police in Xayaboury province apprehended six Lao residents in Hongsa district for attempting to transport 12 million methamphetamine pills on 24 June.
After obtaining information about the drug transit, local police organized a sting operation to nab the traffickers who were traveling in two pickup trucks and a motorcycle between Ngern district and Hongsa district in Xayaboury province, according to Lao Security News.
The six suspects were identified as 27-year-old Xieng Khouang resident Bi Law; Bokeo locals Xong Vang, 24, Tai Lee, 19, Por Her, 24; Chong Tu Her, a 32-year-old from Xayaboury; and La Laow, 30, from Vientiane.
The suspects initially testified that they had been paid by a Thai person to transport the 6,000 bundles of methamphetamine hidden in their trucks to Vientiane Capital.
The accused men said that two of them decided to travel on a motorcycle to examine the road to Hongsa district for the transport of the methamphetamine shipment.
The police also found a pistol with 15 bullets when they arrested the suspects.
This is the latest in a series of drug busts in Laos. Recently, Vientiane Capital police also discovered over 5 million amphetamine pills in an SUV that flipped in the center of Vientiane Capital.