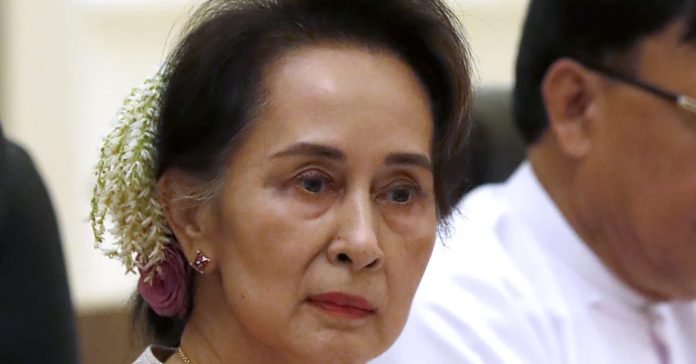 BANGKOK (AP) — Myanmar's Supreme Court heard final arguments on Wednesday in appeals by ousted leader Aung San Suu Kyi of her convictions in two cases in which she was charged with election fraud and breaching the Official Secrets Act, a legal official said.
Suu Kyi, 78, was arrested when the army seized power from her elected government in February 2021. She has been convicted of a string of criminal offenses and sentenced to a total of 33 years in prison, mostly on charges brought by the military government.
Suu Kyi's supporters and legal experts say the cases are an attempt to legitimize the military's seizure of power while discrediting her and preventing her return to politics.
Wednesday's Supreme Court hearing was closed to the media and public. Her lawyers were served with gag orders in late 2021, restricting them from releasing information. Neither Suu Kyi nor any of her co-defendants attended the hearing.
The legal official, who is familiar with Suu Kyi's court cases and spoke on condition of anonymity because he is not authorized to release information, said the Supreme Court could reach its decisions in the next two months.
He said Suu Kyi's lawyers submitted final arguments on her behalf in the two cases, while prosecutors presented their arguments against her release.
The legal officer said the lawyers also filed appeal arguments on behalf of former President Win Myint and Min Thu, a former minister of the government office, who were convicted with Suu Kyi in the election fraud case. All three received three-year prison sentences last September.
In the Official Secrets Act case, Suu Kyi received a three-year sentence last September after being convicted with Sean Turnell, an Australian economist, and three members of her Cabinet.
Turnell, who served as an adviser to Suu Kyi, and two of the Cabinet members have been released after receiving amnesties. The third, Set Aung, a former deputy minister of planning, finance, and industry, was released last month after reportedly serving his sentence.
A lower court earlier rejected the appeals in the two cases.
The legal official said Suu Kyi's lawyers will file another argument next week for an appeal of her conviction on five corruption charges in which she was found guilty of abusing her position and causing the loss of state funds. She was sentenced to seven years in prison in total for the five counts, which involved giving permission to a Cabinet member, Win Myat Aye, to hire, buy and maintain a helicopter.
The court set July 18 for a hearing on whether to accept special appeals in additional cases in which Suu Kyi was convicted of sedition, illegally importing and possessing walkie-talkies, and violating coronavirus restrictions, the legal official said. Appeals of her convictions on seven other corruption charges are still being processed.
Suu Kyi's legal team has faced several hurdles, including being unable to meet with her to receive her instructions for the appeals.
They have applied five times for permission to meet with Suu Kyi since they last saw her in person last December, but have not received any response, the legal official said.
Prison regulations are supposed to allow every newly convicted prisoner to communicate with any person to arrange appeals. However, prison superintendents are allowed to refuse permission if they think the meetings would be against the public interest.
The army's takeover in 2021 was met with widespread peaceful protests that security forces quashed with lethal force, triggering armed resistance and leading to what some United Nations experts have characterized as a civil war.
___
BY GRANT PECK Associated Press