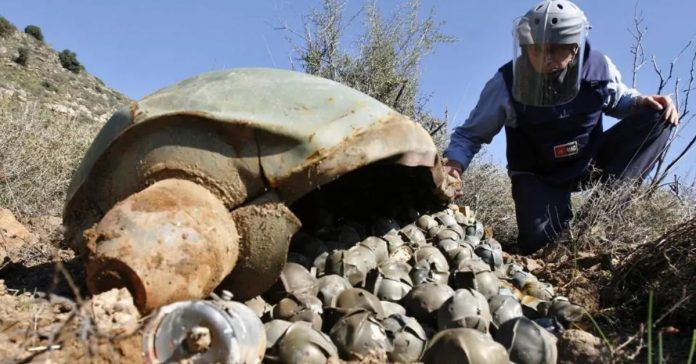 After the United States confirmed its decision to send cluster bombs to Ukraine on Friday as part of ammunition support to fight the ongoing Russia-Ukraine war, the Ministry of Foreign Affairs (MOFA) in Laos released a statement regarding the situation.
As the most heavily bombed per capita country in the world, the statement from the MOFA expressed profound concern over the use of cluster munitions and the detrimental effect it could have on future generations.
The statement says, "The Lao people were victimized by this deadly cluster munition more than five decades ago and even today they continue to be affected by the unexploded ordnance as it continues to pose serious threats to the lives and livelihood of our people.
"Therefore, Laos calls upon any state or actor to refrain from all use, production, transfer, and stockpiling of cluster munitions as prescribed in the Convention on Cluster Munitions so that no one in the world would be victimized by such heinous weapon."
The Convention of Cluster Munitions is an international treaty that has been signed by 123 nations, including only Laos and the Philippines from ASEAN member countries. However, both the United States and Russia have refused to sign the convention.
Between 1964-1975, the US dropped 2,093,100 tonnes of ordnance in Laos during the Vietnam War, which has killed or injured at least 20,000 people since then, of which 45% are children.
Cluster munitions were believed to be included in the US military aid package due to the perceived failure of the highly-anticipated Ukrainian counteroffensive. Western allies like the United Kingdom, Canada, and Spain have condemned this move, and Chris Hipkins, the Prime Minister of New Zealand said that such weapons are, "indiscriminate, they cause huge damage to innocent people, potentially, and they can have a long-lasting effect as well"
During the upcoming NATO summit in Vilnius on 11-12 July, the United States and Ukrainian President Volodymyr Zelensky will reportedly urge NATO allies to increase aid and weapon support for Ukraine.
Usually, Cluster bombs eject explosive bomblets that are designed to kill personnel and destroy vehicles. Other cluster munitions are made to destroy runways or electric power transmission lines. Since cluster bombs release many small bomblets over a wide area, they pose risks to civilians both during attacks and afterward as some of them don't detonate immediately.