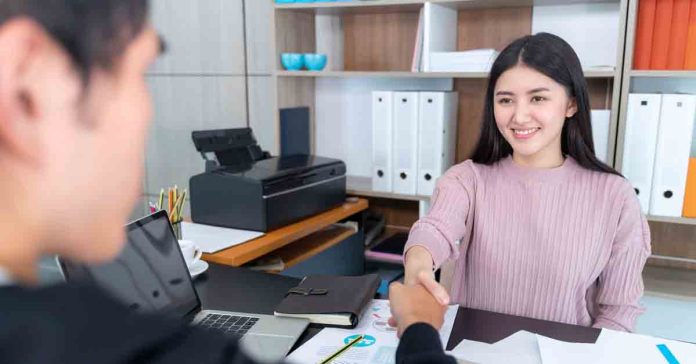 A job advert that went viral on social media this week highlights gaps in laws on employment discrimination in Laos, after an employer posted a part-time job vacancy on a Facebook group, urging only candidates of certain gender, age, height, and zodiac signs to apply.
According to the recruiter who posted the ad, a travel company in Luang Prabang Province is looking to recruit a part-time administrative trainee. But alongside certain professional qualifications, the employer insisted that a suitable candidate must be a woman of Yao, Khmu, or Han ethnicity, who is 160 cm or taller and was born in 2000, 2002, 2003, or 2005 under the signs of Aquarius, Taurus, or Virgo.
The job requirement consisted of handling various administrative tasks such as liaising with travel agencies and suppliers, booking accommodations and transportation, and settling expenses. A suitable applicant was expected to have strong English skills, along with a background in law or finance, and be willing to accompany the employer on business trips as an interpreter.
Social media users reported the post to Facebook, accusing it of being discriminatory, with some even expressing concern about the insistence on very specific physical attributes and the prospect of a young woman being asked to accompany her older employer on business trips.
"So basically, you want a young girl traveling with you outside the province for work? And if they were born in 2005, as required, that would mean an 18-year-old girl… wow. One cannot help but think," one Facebook user commented.
While many Facebook users voiced their concerns about the job posting, a few of them made an effort to clarify why the job criteria included so many particular qualities.
"Personality based on horoscope signs is nothing strange, maybe he (the author) wants to guarantee compatibility with staff based on certain signs," added another Facebook user in the comments.
"It's very important to some people that their personal assistant be compatible (star sign) with their boss and bring harmony instead of chaos and bad luck," another person attempted to explain.
While several other netizens chimed in that gender, height, and zodiac sign had nothing to do with the professional requirements needed for the job, the employer himself weighed in, saying this was needed for "good Feng Shui."
He also clarified the other requirements that seemed problematic to some, claiming that he intends to hire students or freshers because it is a part-time job. The specifics of the year of birth and zodiac help guarantee good feng shui and amenable working conditions and he wants to hire women of a specific height to appear presentable to prospective clients and showcase a good corporate image.
Under the Lao Law on Labor, while an employer is entitled to set specific requirements for a job, employers are prohibited from discriminating against employees or prospective candidates based on factors including gender, marital status, or HIV infection. However, the law is unclear regarding other attributes such as race, disability, language, political opinion, national origin or citizenship, sexual orientation, height, or zodiac sign.
Therefore, although it may seem unusual to most people that height and zodiac sign would be relevant for a job, the job advertisement in question only violated the law in terms of discriminating against gender: the post explicitly states that only women would be considered for the position, disregarding other individuals who may qualify.
This is not the first time an issue like this has surfaced in Lao social media, with many foreigners lacking a clear understanding of the Lao labor law, which is made worse by the inadequate enforcement of the law.
Authorities must not only step up their efforts and take strong measures to implement labor regulations pertaining to discrimination, but they must also take steps and amend the law to guarantee that a qualified person is not denied a job opportunity based on inherent biases that have no relation with the role itself.