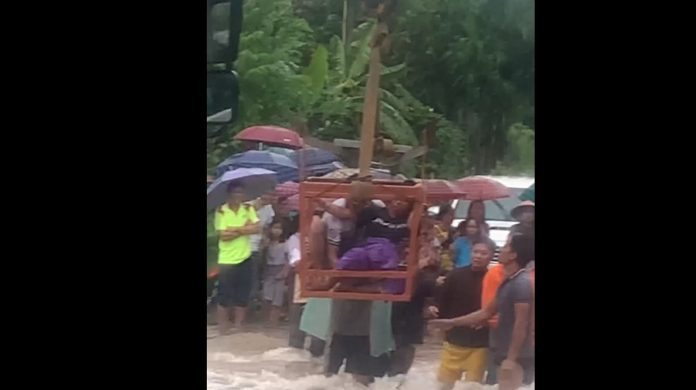 In the heart of the tumultuous flood that engulfed part of a road in Nam Kat Village, Muang Xai District, Oudomxay province, an awe-inspiring story unfolded on Monday as Sone, a pregnant woman in labor, who was unable to get to the hospital, was miraculously rescued to safety by relatives and villagers with the help of a crane.
Somchit Khamphouvieng, Sone's sister-in-law, revisited the incident over a phone call with the Laotian Times, recalling that at 6 am on Monday, Sone had called her in distress, saying that she was going into labor.
Somchit then rushed to Sone's house, in HuaNamBak Village, around 32 km from her residence. Sadly, on her way, Somchit got stuck on a flooded road, 19 km away from Sone's house.
Somchit had then called Sone's Husband, Kunya, who was away on duty as a security officer for the Laos-China Railway, leaving Sone home alone in the countryside frantically trying to arrange for some transportation to reach the hospital.
Unfortunately, Somchit and her relatives were on the other side of the flooded road and there was no way through to Sone.
Somchit then decided to call for a crane, while villagers near Sone brought her near to the flooded site. Somchit said the crane operator first asked for LAK 6 million for assistance but settled for LAK 2 million after negotiations.
When the crane initially reached the flooded area, it could not lift Sone out due to the high water levels, but shortly after when water levels subsided, she was able to be safely lifted and moved near Somchit's car with the help of the villagers in the surrounding area.
Somchit said that they were very lucky that the water level went down when it did, as Sone gave birth to her daughter a mere 30 minutes later, in the car. Both Sone and her daughter were promptly taken to the hospital.
According to Somchit, both Sone and her daughter are doing well. Sone has left the hospital as of Tuesday afternoon and will be recovering at home with relatives.