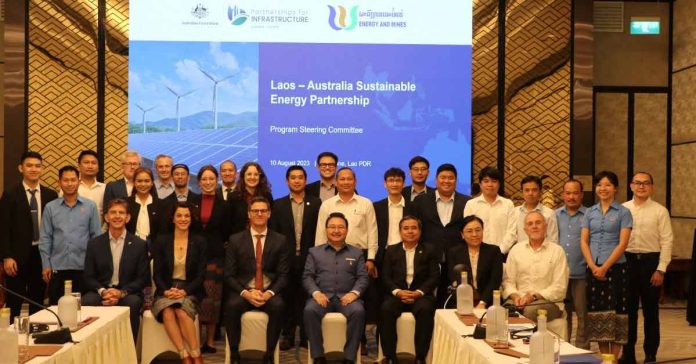 On 10 August, Australian and Lao government representatives gathered with technical experts in Vientiane for the inaugural Program Steering Committee (PSC) meeting of the Laos-Australia Sustainable Energy Partnership (LASEP).
LASEP is supporting Laos' sustainable energy transition, with a focus on energy planning and renewable energy technology, and Australia's Partnerships for Infrastructure (P4I) initiative is supporting the implementation of LASEP.
This PSC meeting came after Australia's Minister for Foreign Affairs, Penny Wong, and Lao Minister of Energy and Mines, Mr. Phosay Sayasone, signed the Memorandum of Subsidiary Arrangement for LASEP on 15 May 2023.
Opening the meeting, Dr. Sinava Souphanouvong, Vice Minister for Energy and Mines, noted that Laos' partnership with Australia would assist the country's ambitious energy transition roadmap.
"Laos and Australia will have significant renewable energy cooperation to ensure our energy sectors are stable, reliable, and profitable. As we move towards our 2050 climate commitments, we hope to exchange knowledge with Australia on the latest energy solutions and technologies," said Dr. Sinava.
Joining Vice Minister Sinava, Australian Ambassador to Laos, Mr. Paul Kelly said, "Australia is committed to playing an ambitious and constructive role in international efforts to combat the climate crisis and support the energy transition. LASEP supports Laos' efforts to adopt new reliable and affordable clean energy technologies."
The PSC meeting set the strategic direction of LASEP activities to advance Laos' energy transition. It endorsed the work plan, including support for inclusive energy planning, understanding storage options, and developing green hydrogen and solar industries in Laos.
These activities will build on bilateral energy cooperation to date, including a P4I-funded study through the Mekong Region Futures Institute and Commonwealth Scientific and Industrial Research Organization (CSIRO) to assess the potential for a green ammonia hydrogen industry in Laos.
PSC attendees learned how this study had identified opportunities for Laos to use green hydrogen in fertilizers, electricity co-generation, and fuel cells – and the potential for further collaboration with Australia in these areas.