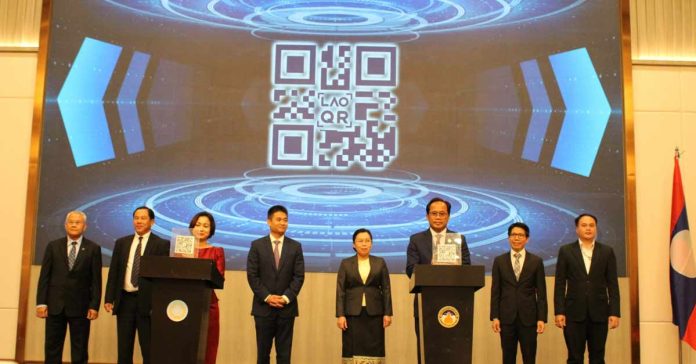 The 13th multilateral meeting between the Bank of Laos and the National Bank of Cambodia was held in Vientiane Capital last Friday to discuss future cooperation efforts and establish a cross-border QR Code payment system.
The meeting was chaired by Mr. Bounleua Sinxayvoravong, Governor of the Bank of Lao PDR, and Mrs. Chea Serey, Governor of the National Bank of Cambodia, and delegations from both sides attended the event.
The two countries discussed a wide range of topics, including macroeconomics, monetary policy implementation, economic development, foreign exchange management policy, banking sector development, and personnel training, with a focus on digitally connecting the payment systems between Laos and Cambodia.
During the meeting, the two sides introduced the Lao-Cambodia cross-border payment system (KHQR scan LAOQR), which allows users to pay for goods and services in Laos and Cambodia using the local currencies, Lao kip and Khmer riel, via QR code.
The payment method is the result of a memorandum of understanding (MoU) signed by the central banks of Laos and Cambodia in Phnom Penh, Cambodia, in 2022, to cooperate in the field of financial innovation and digital payment systems.
The cross-border payment system is facilitated by LAPNet Company and ACLEDA Bank of Cambodia.
The KHQR scan LAOQR system will be available at eight commercial banks in Laos, including BCEL, ACLEDA Bank Lao, Kbank Lao, BIC, APB, LVB, Indochina, and JDB. This will allow Cambodian tourists traveling to Laos to make payments for goods and services by scanning the QR code at shops that display the logo of one of the participating banks.
The LAOQR scan KHQR system, which will allow Lao tourists to pay for goods and services in Cambodia, is expected to be launched in the fourth quarter of 2023.
Additionally, both sides agreed to jointly implement a QR code payment system that meets international standards to support the development of banking and payment technology, encourage digital payments within the country and regionally, and promote the use of local currencies, Lao Kip and Khmer Riel, in cross-border payments.