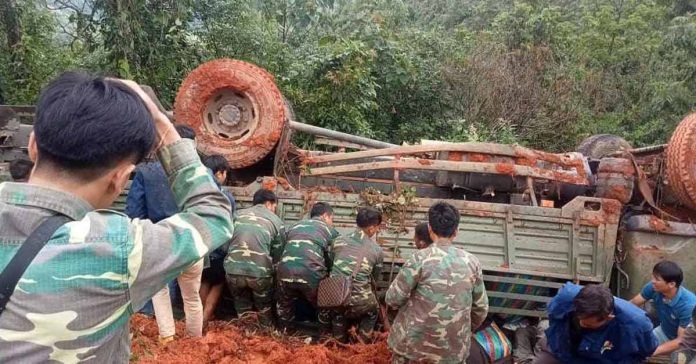 A troop carrier truck overturned in Xieng Khouang Province on Thursday claiming two lives, severely injuring one person and causing minor injuries to several others.
The accident occurred around 10 a.m. on Thursday when the truck carrying a group of military students to Vientiane Capital overturned in the area of Samsoom Mountain, Namjing village in Mok District, in Xieng Khouang Province.
Lieut. Colonel Thongphim Bounphavong, head of the Xieng Khouang Traffic Police Department, told the Lao National Radio that the overturn occurred on a stretch of steep and winding road, that was slippery due to the rainy season.
Lieut. Colonel Thongphim added that the truck, which was carrying more than 30 military students and a large amount of cargo, weighed heavier than usual. This caused it to overturn, resulting in two deaths, one case of severe injury, three moderate injuries, and several minor injuries.
The two deceased military personnel were identified as Lieut. Colonel Kongjai Setkhamchanh, the head of the military in Pek District; and Lieutenant Yaalee, a soldier in Xieng Khouang province.
Lieut. Colonel Thongphim informed that all injured officers were immediately sent to Xieng Khouang Hospital for medical attention. Additionally, he urged all motorists to be more cautious while traveling during this wet season, which can make it more difficult for people to get around due to poor road conditions. On the same day, a landslide also occurred in Khoun district in the province, adversely impacting the movement of vehicles in the area.
Meanwhile, the daughter of Lieut. Colonel Kongjai, who lives in Bokeo province, recently posted on social media that she wanted to see her father one last time. Unfortunately, when she tried to buy an air ticket, she found that all flights were sold out.
Her post quickly went viral, and Lao Airlines saw it. The airline contacted other passengers and found that someone had canceled their flight, so they offered her the seat.
She is now on her way to Vientiane Capital to catch a flight to Xieng Khouang Province.
Social media users were quick to react to her post, offering their condolences and support. Her story touched many people, and they all wished her a safe journey to see her father.