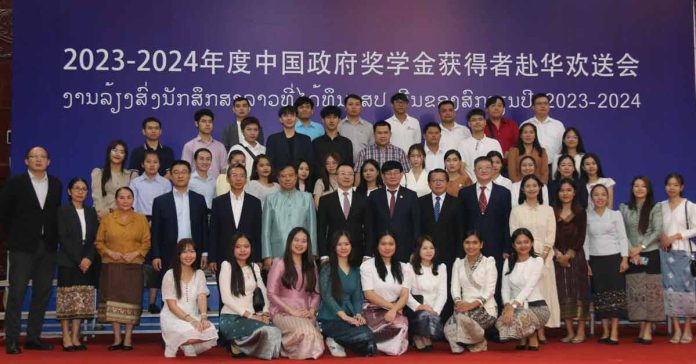 The Embassy of China in Laos, on behalf of the Chinese Government, has awarded 350 scholarships to Lao students and civil servants to study in China for Bachelor's, Master's, and Doctorate degrees in the 2023-2024 academic year.
A send-off event for the students was held last week in Vientiane Capital, which was attended by Dr. Phout Simmalavong, the Lao Minister of Education and Sports; Mr. Wang Chang, Chinese Ambassador to Laos; and other officials from the two countries, as well as parents and guardians of the students.
During the event, Mr. Wang congratulated the scholarship recipients and said that this initiative will help strengthen the relationship between the two countries.
Dr. Phout Simmalavong expressed his gratitude to the Chinese government for providing the scholarships and said that China has made significant contributions to the education sector in Laos, by giving out scholarships to building schools, training teachers, and ICT development, with the recent construction of the railway technical college as an example.
Dr. Phout encouraged the students to study hard and make the most of this opportunity saying, "I would like to urge our students to study hard and learn both academic and technical skills, gain cultural knowledge, and have experiences to develop themselves in the best way possible."
Additionally, the students who received the scholarships are excited to study in China and are determined to make the most of this opportunity.
"I am from an underprivileged family, and I would not have been able to study in China without this scholarship," said Praveena Insisiengmay, who was awarded a master's degree scholarship. "I am deeply grateful to the Chinese government for providing me with this wonderful opportunity," she added.
Since 2018, over 6,000 Lao students have been studying in China with assistance from scholarships, enabling them to enroll in universities, educational institutions, and schools.
Currently, Laos holds the position of being the second-largest country in terms of international students studying in China, and it also receives the most scholarships from China among its neighboring countries.