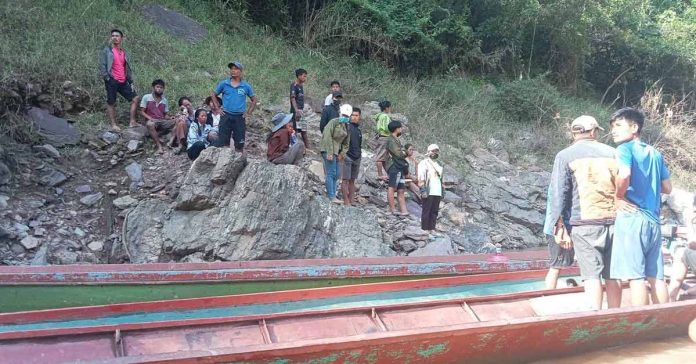 A boat carrying 10 passengers capsized in the Mekong River in Pakbeng district, Oudomxay province on Saturday, and three of the five passengers who went missing were found dead on Monday.
Eight women and two men were traveling on the boat which got stuck in a fishing net, causing the captain to lose control, causing the boat to overturn.
While five passengers were able to survive and were sent to a nearby hospital for treatment, the strong tides in the area swept the other five passengers away in different directions.
All five missing passengers were Khmu residents from Donejeng village, Pakbeng district, in Oudomxay province, including Bounthien, a 60-year-old man; Nu, a 30-year-old man; Tiet, a 50-year-old man; Serm, a 27-year-old woman; and a 10-year-old girl, identified as Tu.
The remote location of the accident and the lack of rescue teams or volunteers are impeding the search for the missing passengers, which is still ongoing.
Many social media users have expressed shock and sadness about the incident and have offered their prayers and condolences to the victims and their families.
On the other hand, some netizens questioned why the fishing net was not clearly marked in the river by its owner to warn other boats. They also urged the relevant ministries to address the issue, as boat accidents happen every year.
Recently, three Lao migrants also went missing after their boat capsized on the Mekong River in Thakek district and were found dead a few days later.