KUALA LUMPUR, MALAYSIA –
Media OutReach
– 5 September 2023 –
Respond.io
, a pioneer in customer conversation management solutions, proudly announces its attainment of the prestigious ISO 27001:2022 certification. This marks a significant milestone in the company's ongoing pursuit of watertight data security, operational excellence and industry leadership.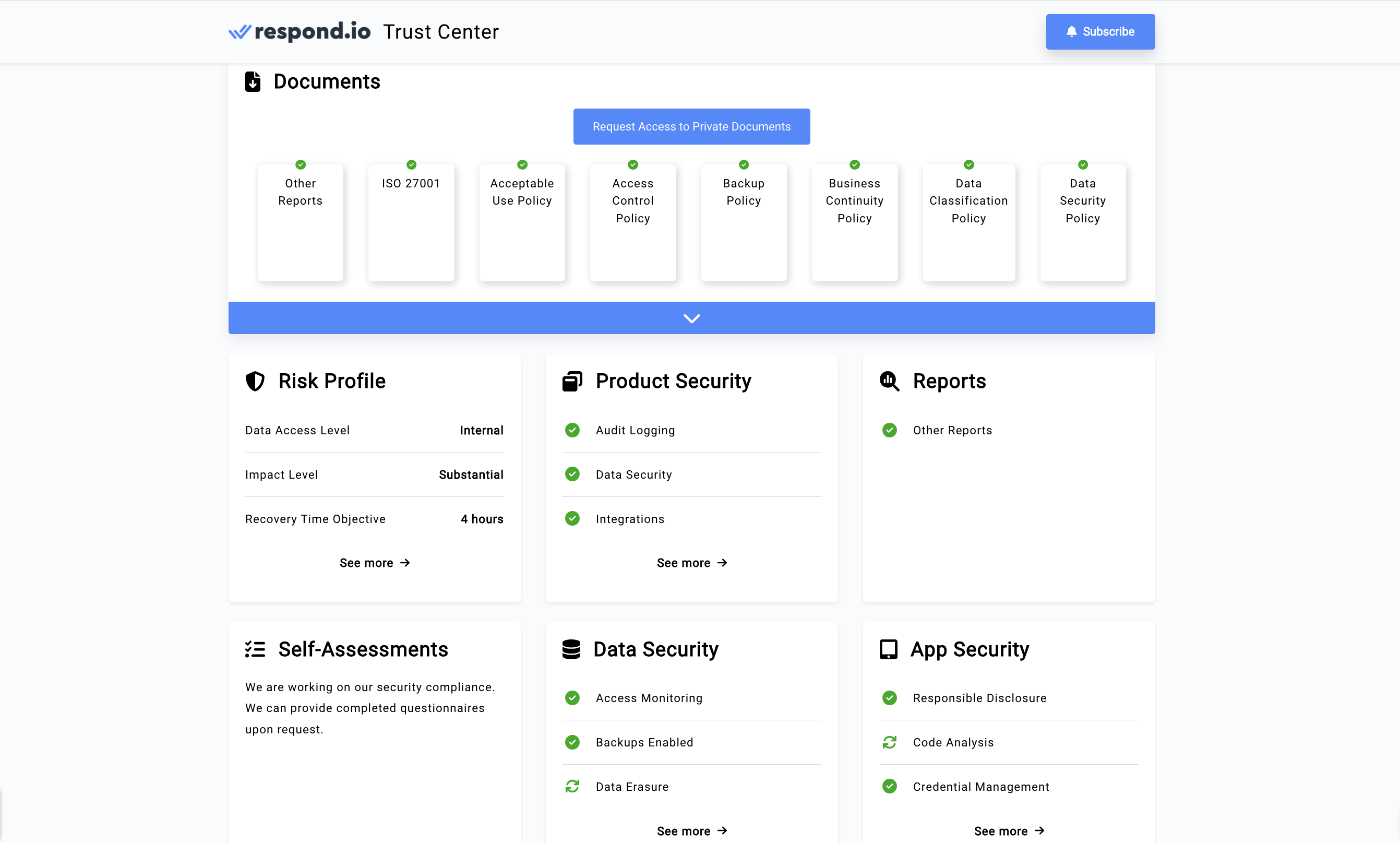 Elevating Standards in Data Security
ISO 27001:2022 is a comprehensive standard that guides organizations of various sizes across industries on how to establish, implement, maintain and enhance a systematic data security and risk management system.
Amidst the rising prevalence of cybercrime, effectively managing customer data is a daunting task. ISO 27001 guides organizations in cultivating risk awareness, preemptively addressing vulnerabilities and implementing a comprehensive strategy that involves individuals, policies and technology.
By attaining the ISO 27001:2022 certification,
respond.io
not only demonstrates its commitment to safeguarding sensitive customer information but also bolsters its defenses against cyber threats and achieves high standards of operational excellence.
This is a company-wide initiative, spanning human resources, which conducts strict background checks during the hiring process, to the tech teams. The latter implemented stringent security procedures, from end-to-end processes to vulnerability handling, and utilized robust cybersecurity technology to ensure continuous ISO compliance by monitoring elements like employee devices even at rest and AWS infrastructure. Any discrepancies will trigger swift alerts for resolution within agreed SLA timelines.
The Impact of ISO 27001:2022 Certification on respond.io's Users and Their Customers
Respond.io
's ISO 27001:2022 certification benefits the thousands of businesses that rely on its platform for customer conversations at every stage of the customer journey.
This certification reflects high data security standards via a strong Information Security Management System (ISMS), fortifying against breaches and unauthorized access in adherence to internationally recognized standards. Additionally, it offers an effective risk management framework that streamlines operations, reduces disruptions and improves workflow.
In turn, businesses can foster trust by assuring customers their data is handled with utmost care and protected by rigorous security protocols.
Respond.io
's transparent ISO compliance provides customers with a clear understanding of their data's handling, processing and protection.
Championing Trust and Reliability
"We are thrilled with our successful acquisition of the ISO 27001:2022 certification, which showcases our dedication to safeguarding user data and secures our position as an industry leader," says
respond.io
CEO Gerardo Salandra. "Customers are increasingly looking for partners they can trust with sensitive data. Following this, we have rolled out a Trust Center so users can engage with our platform with even greater confidence."
The
respond.io
Trust Center compiles the company's practices, policies, and procedures on privacy, security, and compliance. It is a symbol of transparency and assurance that aims to build confidence among
respond.io
users.
By making its privacy practices and security measures highly visible and accessible,
respond.io
allows its customers to verify the fulfillment of their respective compliance prerequisites. Interested parties can also subscribe to receive updates on the latest security measures and policies to track continuous improvements.
To learn more about how
respond.io
commits to data privacy and security, visit
respond.io's Trust Center
.
Hashtag: #respondio #datasecurity #saas

https://www.linkedin.com/company/respondio

https://www.facebook.com/getrespondio/

https://www.instagram.com/respond.io

https://www.youtube.com/@Respondio
The issuer is solely responsible for the content of this announcement.
About respond.io

Respond.io is a customer conversation management software that enables companies to respond to messages from any channel from one centralized dashboard by teams of all sizes, thus making communication with customers easier, faster and more satisfactory.

Over 10,000 companies from 86 countries, including British Airways, Klook, Decathlon, Roche and Bigo use

respond.io. The platform processes 120 million messages per month, beating three of its main competitors combined.

In 2022,

respond.io raised $7 million in Series A funding, led by Headline Asia with participation from AltaIR Capital, Smart Partnership Capital, Sterling Oak Group and Calendula Ventures. In April 2023, the company achieved the prestigious status of a WhatsApp Business Solution Provider (BSP). The company is headquartered in Malaysia.