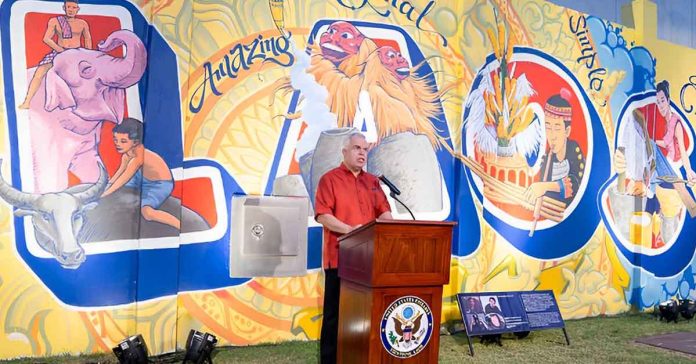 In an exclusive interview with the Laotian Times, Peter Haymond, the outgoing US Ambassador to Laos, offers insights into his diplomatic tenure in the country, shedding light on US-funded programs, UXO clearance progress in Laos, and his profound affection for the nation.
A pivotal moment that would go on to shape the trajectory of Ambassador Haymond's life occurred at the age of seven when his family relocated to Thailand for two years. This experience sowed the seeds of cultural curiosity that would continue to grow over the years.
Returning to Thailand at 19, Ambassador Haymond engaged as a volunteer, representing his church and teaching English. This experience further ignited his passion for working internationally and positively impacting communities, paving the way for a career in diplomacy. 
His experience overseas as a child and young adult eventually led him toward starting a career in the US Department of State, and subsequently to South Korea, where he was posted as a consular officer. The opportunity to serve the US government in Laos came soon after, although he was skeptical about it initially.
"I was frankly not that interested because all I knew about Laos was that it was somewhat similar to Thailand, and I didn't know much of the country's history at that time," he candidly admits. However, with the encouragement of his wife, Dusadee, he decided to pursue the opportunity.
Throughout his three stints working in Laos, in 1997 as a Narcotics Affairs Officer, in 2008 as Deputy Chief of Mission, and in 2020 as Ambassador, Ambassador Haymond recalls different impactful projects he was involved in, that helped contribute to Laos' socio-economic development.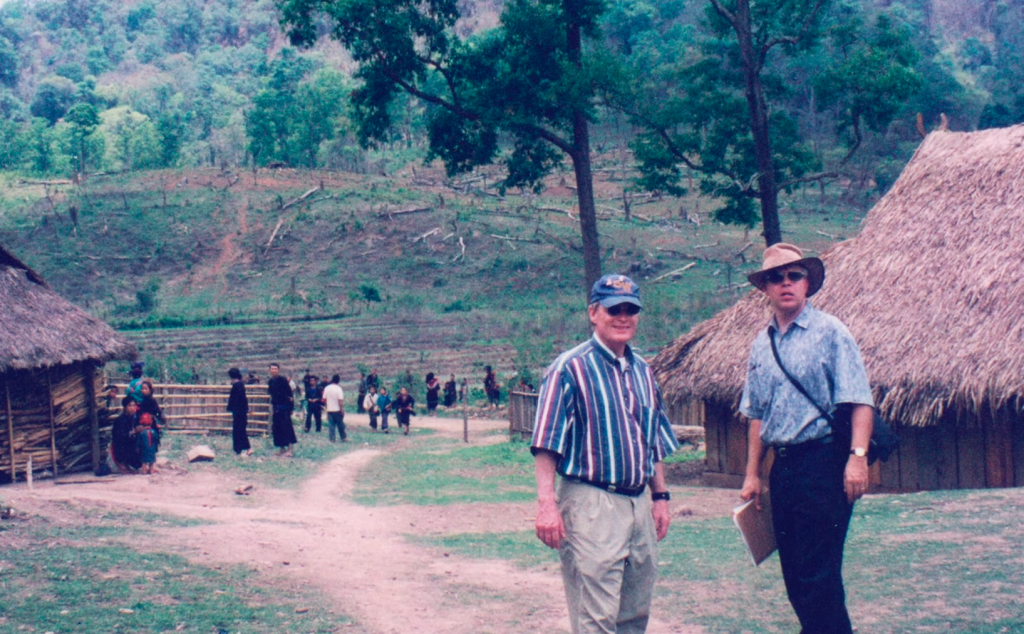 One of his first initiatives was the Lao-US Development Project – a 72 km road going east from the North-South road to the Nam Ou River in Phongsaly Province. Located in Boun Tai and Sam Phun Districts, Phongsaly Province, only 3 km were constructed during his initial term. However, 20 years later, revisiting the project revealed its transformative effects.  
"There are now 12 villages, several schools, and a couple of health clinics right on the road that never existed before our project. People who were growing opium then were now growing other crops and were using the road to send them to market, which they couldn't do earlier. The authorities there also told me that more than 40 villages are sending their kids to Matthayom, to the High School," he says.
"Seeing how something that I had worked on or at least started 20 years before was still positively affecting the people in Phongsaly now, made a deep impression on me," said the Ambassador.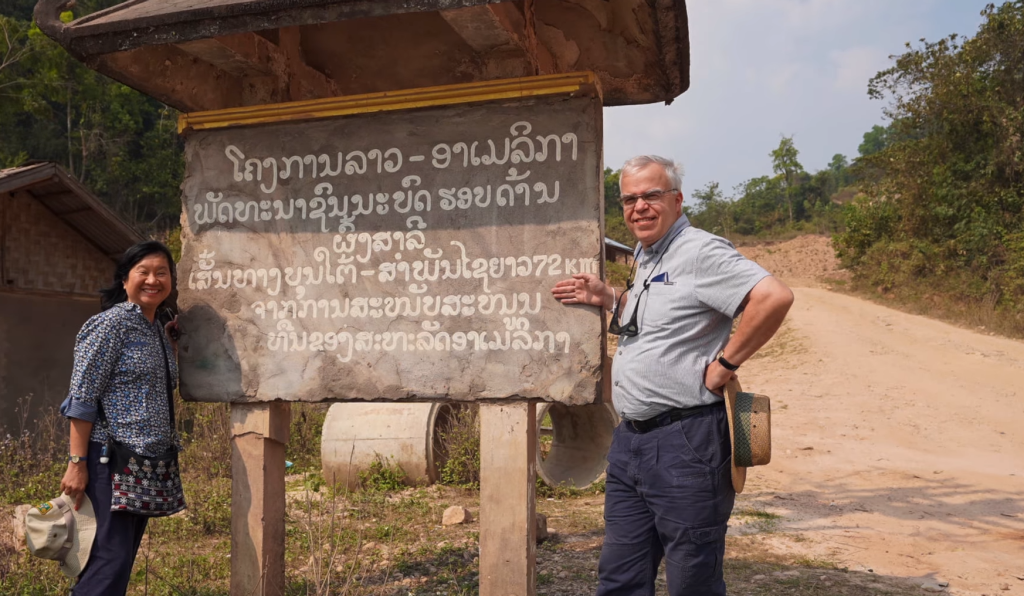 Another impactful role the ambassador reflected on was his commitment to helping clear up UXOs in Laos; from 1964–1975, 2.5 million tons of ordnance were dropped on Laos by the United States, in a secret war that coincided with the Vietnam War. 
Ambassador Haymond emphasized the US government's commitment to aiding Laos in reaching Sustainable Development Goal 18 – eradicating UXO as an obstacle to national development. Collaborating since 2016, the partnership between the US and Lao governments led to over USD 240 million invested in UXO clearance over three decades, with two-thirds of the fund allocated in the past seven years.
"The last few years, the US Government funded a survey within several provinces to see which areas had the most contamination and also had the most economic value and to focus on those areas first, that survey is now finished in five out of the six provinces. Our funding is focused now on clearing those priority areas to clear out as much land as safely and as fast as possible to be used safely by Lao farmers," says Haymond.
Moreover, the initiative's social impact was notable. In the first decade after the Vietnam War, thousands of civilian casualties, both injuries and deaths, were recorded annually. When he arrived in Laos for the second time in 2008, the number had reduced to around 300. This time around, during his stint as Ambassador, the number has decreased to around 40-50 casualties per year. Efforts by the Lao government, bolstered by US programs, promoting education among rural populations, especially children, contributed to this progress.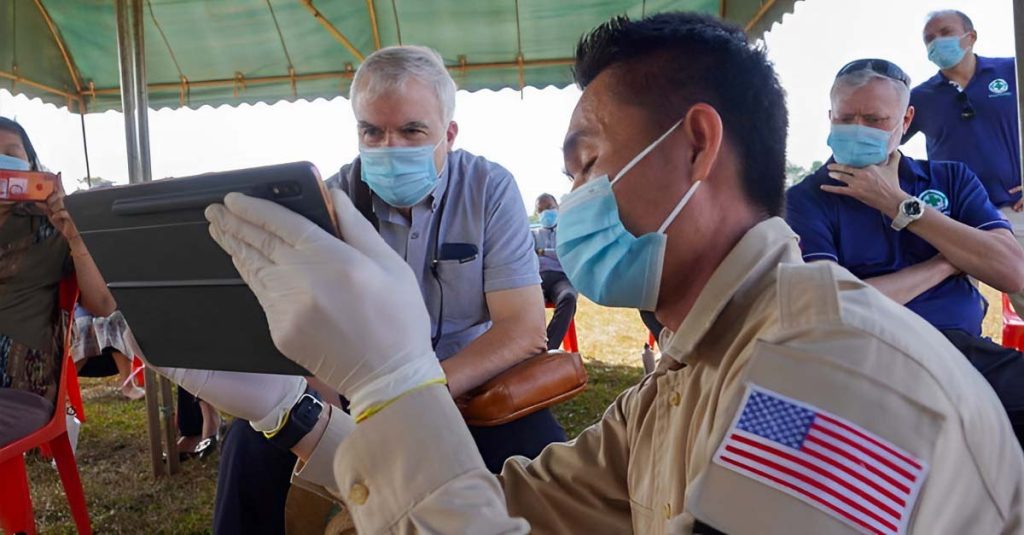 Another US-funded initiative Ambassador Haymond is happy to have worked on was centered on aiding people with disabilities, particularly in Savannakhet and Xieng Khouang, two provinces heavily affected by UXOs. The project's broader scope extended support beyond UXO victims to cover all individuals with disabilities.
Through the project, Ambassador Haymond was able to meet an 11-year-old girl in rural Laos who was born with cerebral palsy. "She has the most remarkable smile I have ever seen on a young person, just a bright flashing smile," he tells us.
"For 11 years her parents had carried her everywhere – it's a classic rural household, steps up to the second level. They carried her up, down, to the toilet, anywhere she needed to be."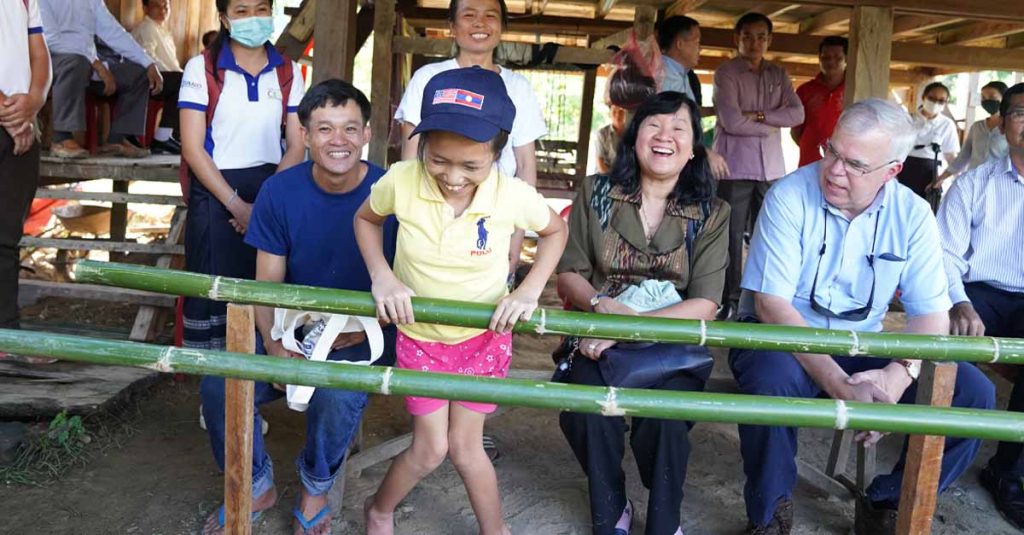 "USAID set up a set of bamboo railings [around the girl's house]. When I went there, the young girl was learning to pull herself around the railing, so she could pull herself around the house. For the first time in her life, she was moving herself around."
"We're very pleased and very proud of these projects but when you meet someone who's positively impacted by them, and you can see the change that it can make in their life, that is memorable for me and my wife," he adds.
Looking ahead, following the conclusion of his diplomatic mission in Laos, Ambassador Haymond will be stationed in Hawaii for two years, where he is likely to end his career with the US Government.
Elaborating on his new role he said, "I will be a senior diplomat at an institute that does training and workshops and exercises bringing together both diplomatic and security personnel from governments all around Asia-Pacific, including Laos, and so for me, it will be like a summation of my career, which has been in East Asia when I have not been in Washington."
Ambassador Haymond emphasized the US' commitment to continue strengthening its partnership with Laos, of which he said, "The US is not providing support just because I have a deep affection for Laos, they're doing so because we're committed to building our relations with Laos, to support the government in further strengthening the Lao economy and society so that Laos is successful as a state, as a member of ASEAN, as part of the most dynamic economic part of the word, that is East Asia."
In closing, Ambassador Haymond expressed pride in representing the United States in Laos, conveying well wishes for the nation's continued development. "We (him and his wife) are proud and feel grateful to have represented the United States of America three times in Laos, last as Ambassador, and we will continue to wish Laos well in its development," he ended.